Kennametal Tungsten Carbide Powders
In compression, the strength of tungsten carbide (WC) is greater than any material ever known. Combined with its high thermal conductivity, intense strength, and extreme stiffness, tungsten carbide is the choice material for all types of metal forming and cutting tools.
What Makes Kennametal Powders Different?
Kennametal provides a variety of tungsten carbide powders. Exacting quality control, large uniform batches, high purity, and particle size uniformity enhance its desirability by manufacturers of cemented tungsten carbide.
Macrocrystalline WC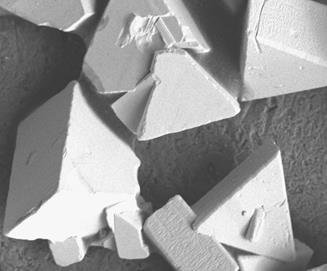 Produced by Kennametal's patented thermit process, Macrocrystalline tungsten carbide powder is ideally suited to all diamond tool applications. Low internal porosity combined with high packing density results in a tool with extreme wear resistance levels.
Monocarbide, fully carburized and dense
No undercarburized W2C phases
Large macro-sized crystals
High thermal stability
Uniform internal structure
Excellent wetting properties
Available in a wide range of sizes from 40 US mesh to micron sizes
Conventional Carburized WC
Produced by solid carburization of tungsten powder, this polycrystalline material is used in diamond tools as a harder and wear rate modifier. Once mixed with cobalt and binder, tungsten carbide is pressed and sintered. Sintered tungsten is used to cut steel, drill circuit boards and a multitude of other high tech applications in the automobile and aerospace industries, and beyond.
Polycrystalline
Loosely agglomerated
Available in several grades from 0.8 micron to 4.8 micronmesh to micron sizes
All powder is commercially uniform in purity. The chemical and physical analyses are determined for each production lot of powder by using commercially accepted methods. The results of all relevant tests are reported to the customer on a Certificate of Analysis.

Did You Know?
Kennametal was founded in 1938 based on an invention for improving the properties of tungsten carbide, which enabled a significant increase in productivity for the machining of steel.