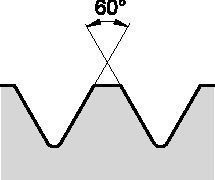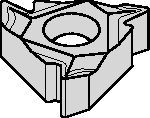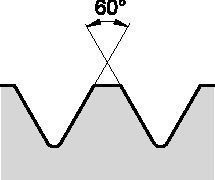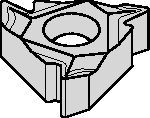 LT-ER-60CB
Plaquettes de filetage LT
keyFilters
Workpiece Material
P0

Low-Carbon Steels, Long Chipping

C < .25%; <125 HB; <530 N/mm^2 UTS

(

1

)

P1

Low-Carbon Steels, Short Chipping

C < .25%; <125 HB; <530 N/mm^2 UTS

(

1

)

P2

Medium and High Carbon Steels

C < .25%; <220 HB; <25 HRC; >530 N/mm^2 UTS

(

1

)

P3

Alloy Steels & Tool Steels

C > .25%; <330 HB; <35 HRC; 600-850 N/mm^2 UTS

(

1

)

P4

Alloy Steels & Tool Steels

C > .25%; 350-420 HB; 35-43 HRC; 850-1400 N/mm^2 UTS

(

1

)

P5

Ferritic, Martensitic, and PH Stainless Steels

<330 HB; <35 HRC; 600-900 N/mm^2 UTS

(

1

)

P6

High Strength Ferritic, Martensitic, and PH Stainless Steels

350-450 HB; 35-43 HRC; 900-2400 N/mm^2 UTS

(

1

)

M1

Austenitic Stainless Steel

130-200 HB; <600 N/mm^2 UTS

(

1

)

M2

High Strength Austenitic Stainless and Cast Stainless Steels

150-230 HB; <25 HRC; >600 N/mm^2 UTS

(

1

)

M3

Duplex Stainless Steel

135-275 HB; <30 HRC; 500-1200 N/mm^2 UTS

(

1

)

K1

Gray Cast Iron

120-290 HB; <32 HRC; 125-500 N/mm^2 UTS

(

1

)

K2

Low and Medium Strength CGI and Ductile Irons

130-260 HB; <28 HRC; <600 N/mm^2 UTS

(

1

)

K3

High Strength Ductile and Austempered Ductile Iron

180-350 HB; <43 HRC; >600 N/mm^2 UTS

(

1

)

S1

Iron-Based, Heat-Resistant Alloys

160-260 HB; 25-48 HRC; 500-1200 N/mm^2 UTS

(

1

)

S2

Cobalt-Based, Heat-Resistant Alloys

250-450 HB; 25-48 HRC; 1000-1450 N/mm^2 UTS

(

1

)

S3

Nickel-Based, Heat Resistant Alloys

160-450 HB; <48 HRC; 600-1700 N/mm^2 UTS

(

1

)

S4

Titanium and Titanium Alloys

300-400 HB; 33-43 HRC; 900-1600 N/mm^2 UTS

(

1

)
No filters matching ""
Change the visible columns with any of the parameters listed below. A maximum of 7 columns can be displayed.
Displaying
1-

1
of
1
results
Applied Filters:
Clear all filters
SAP Material Number
ISO Catalog Number
ANSI Catalog Number
Grade
First Choice
[LI] Insert Length
[LI] Insert Length
INS_IRR_THREAD_TYPE
[RC] Corner Radius Center
[RC] Corner Radius Center
[EX] Profile Distance
[EX] Profile Distance
[E] Profile Distance
[E] Profile Distance
Thread Pitch
INS_IRR_CTLG_THREAD_PITCH_I
TPI
1679780
LT16ERAG60CB
LT16ERAG60CB
KC5025

16.4970
.6495
60
0.0760
.0030
0.8890
.0350
1.4990
.0590
0,50-3,0
 
8-48

List price:

$34.10

/each.
Replacement
This item is not available
Replacement Product
This item may be available through a distributor
Grades
KC5010

Composition : Revêtement PVD TiAlN multicouche sur substrat carbure non allié très résistant à la déformation. Ce nouveau revêtement permet d'augmenter la vitesse de coupe de 50–100%.
Application : Le KC5010 est idéal de la finition aux travaux généraux sur la plupart des matériaux à des vitesses supérieures. Excellent pour l'usinage de la plupart des aciers et des aciers inoxydables, fontes, matériaux non ferreux et superalliages en conditions stables. Il donne également de bons résultats sur les matériaux trempés et à copeaux courts.


KC5025

Composition : Nuance revêtue  PVD-AlTiN avec substrat non allié très tenace à grain ultra-fin.
Application : Pour applications générales sur la plupart des aciers, les aciers inoxydables, alliages hautes températures, le titane, les fontes et matériaux non ferreux. Petite à moyenne vitesses, coupe interrompue et vitesses d'avance élevées possibles.