Sign In
New Customer
Are you new to Kennametal? Create an account and get started.
Create Account
---
Registered Customer
Already have an account? Sign in.
Sign In
New Customer
Are you new to Kennametal? Create an account and get started.
Create Account
---
Registered Customer
Already have an account? Sign in.
Sign In
KenCast Welding Instructions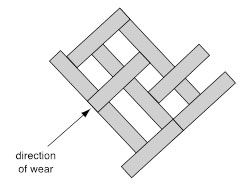 Dead Bedding
A little KenCast goes a long way. Applied strategically, small KenCast wear parts provide exceptional wear resistance. A standard KenCast wear bar is often less than 2" thick. Though dimensions vary, the 1"-thick wear bar is a common standard.
Apply KenCast using the "dead bedding" technique by attaching small, thin bars in a staggered pattern. The abrasive material from the application fills the gaps between the KenCast parts as it moves over them.
For example, a coal mining chute is an ideal location for dead bedding. The chute can be reinforced with several slim KenCast wear bars. Coal moves across and lodges between the bars and becomes an extension of the KenCast, protecting the expensive chute from sliding abrasion. This strategy uses abrasive material as part of the solution.

Attachment
Always attach the KenCast wear bar with the steel side down. The carbide side is easy to identify by the Kennametal sticker or yellow paint. If the unit has a part number, it will be on the steel side. The KenCast part should not exceed 600˚F during welding, and the ambient temperature should be around 70˚F.
For standard carbide chip sizes and stock wear bar products, use one of two material options: 0.052" flux-cored wire (7100 ESAB or equivalent, shielded with carbon dioxide) from 22 to 24 volts and 200 to 235 amps, or 1/8" weld rod (7018M or equivalent, low hydrogen) from 21 to 33 volts and 135 to 185 amps.
Pre- and post-heating is not necessary when welding KenCast. Pre-heating is recommended when attaching KenCast to high-manganese steel and oil-and-gas string components to avoid underbed cracking. KenCast has been successfully welded to 4130 and 4140 steel without pre- or post-heating.
Protect the welds by using weld chamfers, hardfacing over them, or positioning the KenCast part to avoid wear on the welds. Apply hardface material over the welds if weld washout is a concern.
Disclaimer:
Kennametal makes no warranties regarding this information and disclaims all express or implied warranties with respect to this information, including, without limitation, all implied warranties of merchantability and fitness for a particular purpose and warranties of patent non-infringement. These instructions do not relieve the welder from using common sense and recognized safe welding practices. Kennametal will not be responsible for special, incidental, exemplary, or consequential damages that may be incurred pursuant to the use of these instructions or the performance of the equipment created by the use of these instructions.