Micron by Micron - Precision Adjustment is as Easy as 1, 2, 3

The eBore boring system covers a diameter range from 6-1020mm by providing state-of-the-art fine boring tooling solutions that have one thing in common: all of them are digital ready.
The digital eBore display provides the option to readjust the tool on the spindle, reducing setup time and idle time.
One for all - One eBore digital display serving all eBore fine boring tools.
Micron by micron, the precision adjustment of each tool is just as easy as 1, 2, 3.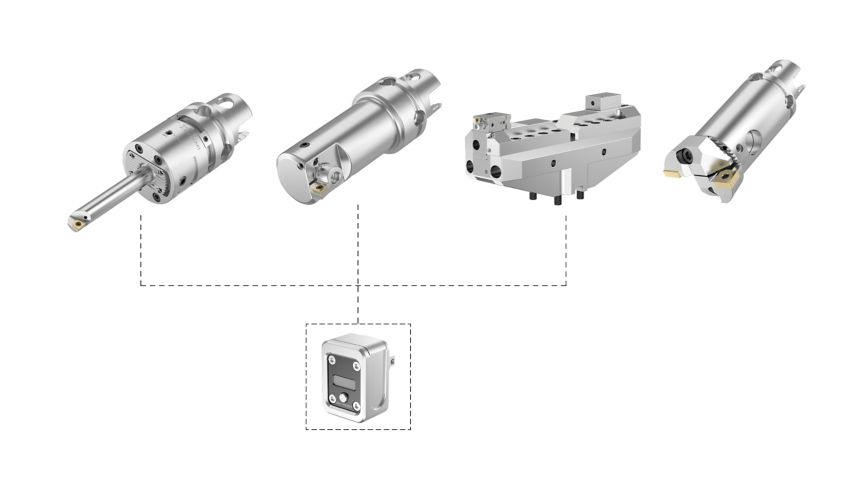 eBore™ Features
Dial for manual adjustment.

Upgrade from analog to digital possible.
Versatility through various fine boring tooling options.

Diameter range from 6-1020mm.

Precision fine boring with ease.

Adjustment of each tool micron by micron.

Tool re-adjustment on the spindle.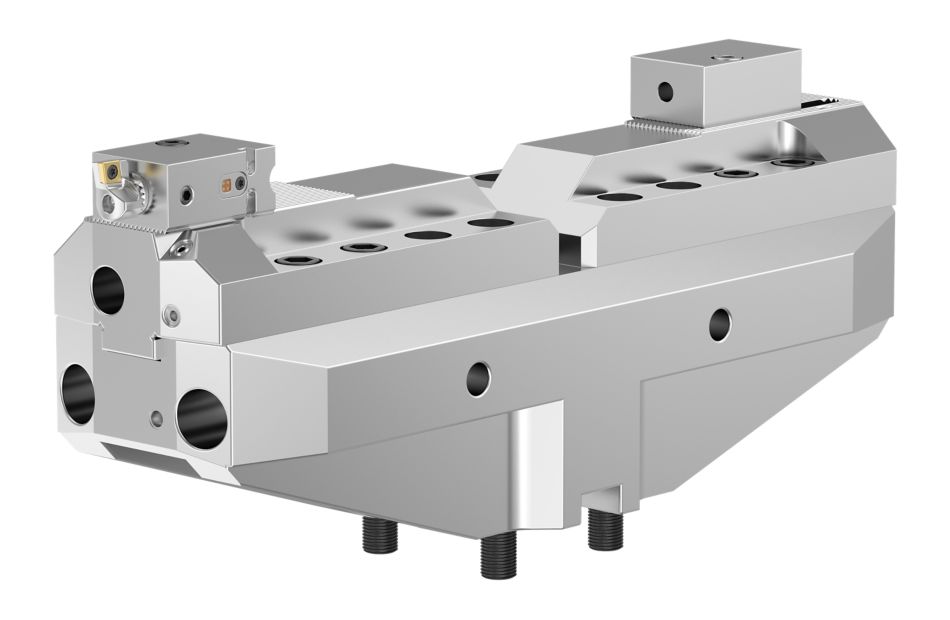 Key Filters
Workpiece Material
P0

Low-Carbon Steels, Long Chipping

C < .25%; <125 HB; <530 N/mm^2 UTS

(

44

)

P1

Low-Carbon Steels, Short Chipping

C < .25%; <125 HB; <530 N/mm^2 UTS

(

44

)

P2

Medium and High Carbon Steels

C < .25%; <220 HB; <25 HRC; >530 N/mm^2 UTS

(

44

)

P3

Alloy Steels & Tool Steels

C > .25%; <330 HB; <35 HRC; 600-850 N/mm^2 UTS

(

44

)

P4

Alloy Steels & Tool Steels

C > .25%; 350-420 HB; 35-43 HRC; 850-1400 N/mm^2 UTS

(

44

)

P5

Ferritic, Martensitic, and PH Stainless Steels

<330 HB; <35 HRC; 600-900 N/mm^2 UTS

(

44

)

P6

High Strength Ferritic, Martensitic, and PH Stainless Steels

350-450 HB; 35-43 HRC; 900-2400 N/mm^2 UTS

(

44

)

M1

Austenitic Stainless Steel

130-200 HB; <600 N/mm^2 UTS

(

44

)

M2

High Strength Austenitic Stainless and Cast Stainless Steels

150-230 HB; <25 HRC; >600 N/mm^2 UTS

(

44

)

M3

Duplex Stainless Steel

135-275 HB; <30 HRC; 500-1200 N/mm^2 UTS

(

44

)

K1

Gray Cast Iron

120-290 HB; <32 HRC; 125-500 N/mm^2 UTS

(

39

)

K2

Low and Medium Strength CGI and Ductile Irons

130-260 HB; <28 HRC; <600 N/mm^2 UTS

(

39

)

K3

High Strength Ductile and Austempered Ductile Iron

180-350 HB; <43 HRC; >600 N/mm^2 UTS

(

39

)

N

Non-Ferrous Materials

(

39

)

N2

Low-Silicon Aluminum Alloys and Magnesium Alloys

Si <12.2%

(

39

)

N3

High-Silicon Aluminum Alloys

Si >12.2%

(

39

)

N4

Copper, Brass, Zinc-based on machinability index range of 70-100

(

39

)

N5

Nylon, Plastics, Rubbers, Phenolics, Resins, Fiberglass

(

39

)

N6

Carbon, Graphite Composites, CFRP

(

39

)

S1

Iron-Based, Heat-Resistant Alloys

160-260 HB; 25-48 HRC; 500-1200 N/mm^2 UTS

(

44

)

S2

Cobalt-Based, Heat-Resistant Alloys

250-450 HB; 25-48 HRC; 1000-1450 N/mm^2 UTS

(

44

)

S3

Nickel-Based, Heat Resistant Alloys

160-450 HB; <48 HRC; 600-1700 N/mm^2 UTS

(

44

)

S4

Titanium and Titanium Alloys

300-400 HB; 33-43 HRC; 900-1600 N/mm^2 UTS

(

44

)

H

Hardened Materials

(

39

)

H1

Hardened Materials

44-48 HRC

(

39

)

H2

Hardened Materials

48-55 HRC

(

39

)

H3

Hardened Materials

56-60 HRC

(

39

)

H4

Hardened Materials

>60 HRC

(

39

)
Applications
Blind & Cross Hole Finishing

(

71

)

Blind Hole Finishing

(

71

)

Through & Cross Hole Finishing

(

71

)

Through Hole Finishing

(

71

)
Cutting Condition
Heavily Interrupted Cut

(

39

)

Lightly Interrupted Cut

(

44

)
Tool Cutting Edge Angle
Tool Cutting Edge Angle Min
to
Tool Cutting Edge Angle Max
Cutting Edges Per Insert
Cutting Edges Per Insert Min
to
Cutting Edges Per Insert Max
Internal Coolant Capability
Internal Coolant Capability
Over All Length [L]
Over All Length [L] Min
to
Over All Length [L] Max
Over All Length [L]
Over All Length [L] Min
to
Over All Length [L] Max
Corner configuration
Corner Radius
Corner Radius Min
to
Corner Radius Max
Corner Radius
Corner Radius Min
to
Corner Radius Max
Corner Chamfer
Corner Chamfer Min
to
Corner Chamfer Max
Corner Chamfer
Corner Chamfer Min
to
Corner Chamfer Max
Application
Grade Of Cutting Tool
F Dimension
F Dimension Min
to
F Dimension Max
F Dimension
F Dimension Min
to
F Dimension Max
Minimum Axial Groove Diameter
Minimum Axial Groove Diameter
Minimum Axial Groove Diameter Min
to
Minimum Axial Groove Diameter Max
Minimum Axial Groove Diameter
Minimum Axial Groove Diameter
Minimum Axial Groove Diameter Min
to
Minimum Axial Groove Diameter Max
Maximum Axial Groove Diameter
Maximum Axial Groove Diameter
Maximum Axial Groove Diameter Min
to
Maximum Axial Groove Diameter Max
Maximum Axial Groove Diameter
Maximum Axial Groove Diameter
Maximum Axial Groove Diameter Min
to
Maximum Axial Groove Diameter Max
Maximum Bore Depth
Maximum Bore Depth Min
to
Maximum Bore Depth Max