What Makes Kennametal Powders Different?
As one of the largest tungsten carbide manufacturers in the world, Kennametal provides exceptional value to our customers through a commitment to superior quality, continuous improvement and total customer satisfaction. Kennametal offers a variety of tungsten carbide powders for multiple applications across industry.
Macrocrystalline WC
Produced by Kennametal's patented thermit process, macrocrystalline tungsten carbide powder is ideally suited to all diamond tool applications. Low internal porosity combined with high packing density results in a tool with extreme wear resistance levels.
Monocarbide, fully carburized and dense
No undercarburized W2C phases
Large macro-sized crystals
High thermal stability
Uniform internal structure
Excellent wetting properties
Available in a wide range of sizes from 40 US mesh to 1.2 micron sizes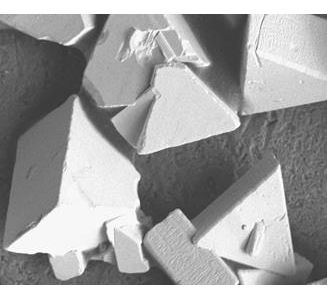 Standard WC
Produced by solid carburization of tungsten powder, this polycrystalline material is used in diamond tools as a harder and wear rate modifier. Once mixed with cobalt and binder, tungsten carbide is pressed and sintered.
Polycrystalline
Loosely agglomerated
Available in sizes from 0.6 micron to 50 micron