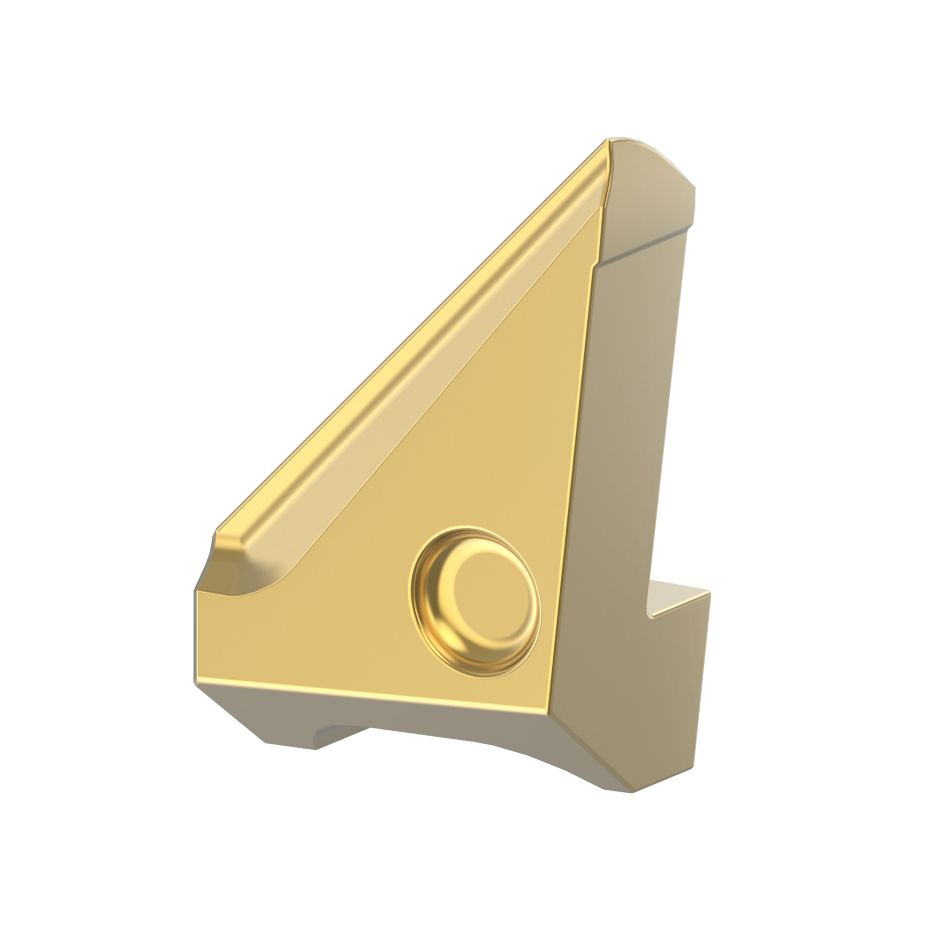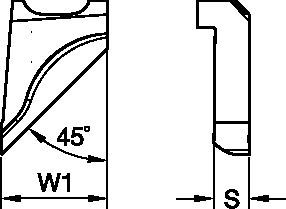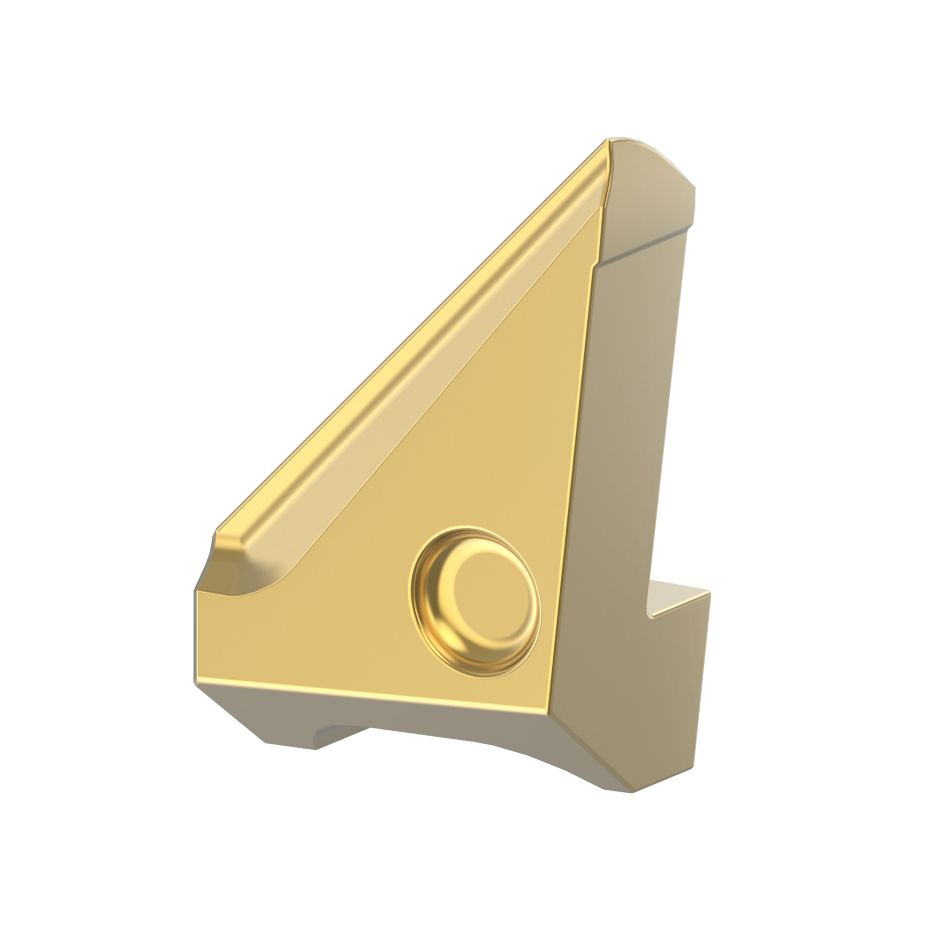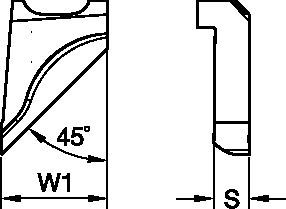 Płytki do fazowania SEFAS • R001 • 45°
Płytki do fazowania SEFAS™
Features and benefits
Use RO21 SEFAS Chamfering Inserts when using KenTIP or KSEM Drills.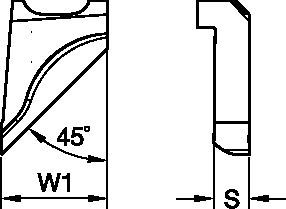 There are no results for this query&#44 please update the query and try again.
Replacement
This item is not available
Replacement Product
This item may be available through a distributor
Grades
CS5

Composition: PVD TiN-coated grade with a sub-micron grain, straight carbide
substrate containing 9.5% cobalt.
Application: General purpose grade for drilling, countersinking, and counterboring
operations in most steels, cast irons, and heat-resistant alloys. Good balance of
toughness and wear resistance to provide all-around reliability.


KC7215

• TiAlN-PVD-coated universal fine-grain grade.
• Highest level of wear resistance resulting in higher cutting speeds.
• More wear resistant than TiN-PVD grades.
• Particularly suitable for alloyed steel and cast iron.

KMF

KMF is an uncoated carbide grade, fine grained substrate for machining of high-temperature alloys and non-ferrous materials.

B210A, B221A, B224A, B254A, B284A, B291A, B707A, B966A, B976A
B211A, B222A, B225A, B285A, B292A, B411A B708A, B977A
B212A, B256A B709A, B978A
unalloyed and low-alloy steel unalloyed and alloy steel, and cast iron high alloy steel and stainless steel
drill diameter D1
TBmin
TBmax
TBmin
TBmax
TBmin
TBmax
TS100
TS80
TSmax
4,0-4,7
4
17
12
29
20
36
1,2
1,8
2,5
4,7-6,0
4
20
20
35
27
43
1,5
2,2
3,0
6,0-7,0
11
24
23
40
32
49
2
3,0
4,0
7,0-8,0
11
28
23
40
42
59
2,5
4,0
5,0
8,0-10,0
13
29
27
43
46
62
2,5
4,0
5,0
10,0-12,0
15
35
31
51
54
74
3,5
5,0
7,0
12,0-14,0
21
36
38
53
69
84
4,0
6,0
8,0
14,0-16,0
22
40
40
58
78
96
4,0
6,0
8,0
16,0-18,0
31
45
51
65
93
107
4,0
6,0
8,0
18,0-20,0
34
50
56
72
103
119
4,0
6,0
8,0
K210, K254, K284
K211, K222, K255, K285, K411
K212, K256
unalloyed and low-alloy steel, unalloyed and alloy steel, and cast iron, high-alloy steel and stainless steel
drill diameter D1
TBmin
TBmax
TBmin
TBmax
TBmin
TBmax
TS100
TS80
TSmax
.156-.188
.236
.866
.472
1.102
.866
1.102
.047
.071
.098
.188-.250
.354
1.024
.709
1.378
1.220
1.890
.059
.087
.118
.250-.266
.433
1.102
.906
1.575
1.654
2.323
.079
.118
.157
.266-.313
.433
1.102
.906
1.575
1.654
2.323
.098
.157
.197
.313.-.375
.512
1.142
1.063
1.693
1.929
2.559
.118
.197
.236
.375-.438
.551
1.260
1.142
1.850
2.008
2.717
.138
.197
.276
.438-.500
.591
1.378
1.220
2.008
2.205
2.992
.157
.236
.315
.500-.563
.827
1.417
1.496
2.087
2.717
3.307
.157
.236
.315
.563-.625
.866
1.575
1.575
2.283
3.071
3.780
.157
.236
.315
.625-.688
1.299
1.850
2.087
2.638
3.740
4.291
.157
.236
.315
.688-.750
1.378
2.008
2.126
2.756
4.055
4.685
.157
.236
.315
.750-.813
1.552
2.181
2.260
2.890
4.386
5.016
.157
.236
.315
.813-.875
1.702
2.293
2.726
3.317
4.694
5.285
.157
.236
.315
.875-.938
1.735
2.404
2.876
3.546
4.884
5.554
.157
.236
.315
.938-1.010
1.846
2.515
3.067
3.736
5.193
5.862
.157
.236
.315