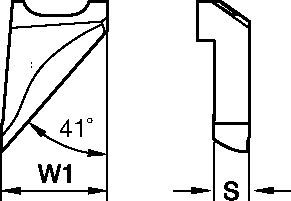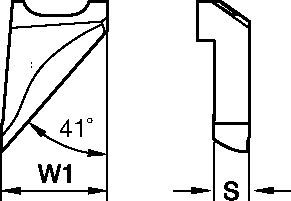 Płytki do fazowania SEFAS • R081 • 41°
Płytki do fazowania SEFAS™
Features and benefits
Use RO21 SEFAS Chamfering Inserts when using KenTIP or KSEM Drills.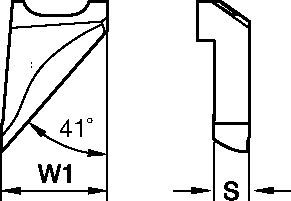 There are no results for this query&#44 please update the query and try again.
Replacement
This item is not available
Replacement Product
This item may be available through a distributor
Grades
KC7215

• TiAlN-PVD-coated universal fine-grain grade.
• Highest level of wear resistance resulting in higher cutting speeds.
• More wear resistant than TiN-PVD grades.
• Particularly suitable for alloyed steel and cast iron.
B210A, B221A, B224A, B254A, B284A, B291A, B707A, B966A, B976A
B211A, B222A, B225A, B285A, B292A, B411A B708A, B977A
B212A, B256A B709A, B978A
unalloyed and low-alloy steel unalloyed and alloy steel, and cast iron high alloy steel and stainless steel
drill diameter D1
TBmin
TBmax
TBmin
TBmax
TBmin
TBmax
TS100
TS80
TSmax
4,0-4,7
4
17
12
29
20
36
1,2
1,8
2,5
4,7-6,0
4
20
20
35
27
43
1,5
2,2
3,0
6,0-7,0
11
24
23
40
32
49
2
3,0
4,0
7,0-8,0
11
28
23
40
42
59
2,5
4,0
5,0
8,0-10,0
13
29
27
43
46
62
2,5
4,0
5,0
10,0-12,0
15
35
31
51
54
74
3,5
5,0
7,0
12,0-14,0
21
36
38
53
69
84
4,0
6,0
8,0
14,0-16,0
22
40
40
58
78
96
4,0
6,0
8,0
16,0-18,0
31
45
51
65
93
107
4,0
6,0
8,0
18,0-20,0
34
50
56
72
103
119
4,0
6,0
8,0
K210, K254, K284
K211, K222, K255, K285, K411
K212, K256
unalloyed and low-alloy steel, unalloyed and alloy steel, and cast iron, high-alloy steel and stainless steel
drill diameter D1
TBmin
TBmax
TBmin
TBmax
TBmin
TBmax
TS100
TS80
TSmax
.156-.188
.236
.866
.472
1.102
.866
1.102
.047
.071
.098
.188-.250
.354
1.024
.709
1.378
1.220
1.890
.059
.087
.118
.250-.266
.433
1.102
.906
1.575
1.654
2.323
.079
.118
.157
.266-.313
.433
1.102
.906
1.575
1.654
2.323
.098
.157
.197
.313.-.375
.512
1.142
1.063
1.693
1.929
2.559
.118
.197
.236
.375-.438
.551
1.260
1.142
1.850
2.008
2.717
.138
.197
.276
.438-.500
.591
1.378
1.220
2.008
2.205
2.992
.157
.236
.315
.500-.563
.827
1.417
1.496
2.087
2.717
3.307
.157
.236
.315
.563-.625
.866
1.575
1.575
2.283
3.071
3.780
.157
.236
.315
.625-.688
1.299
1.850
2.087
2.638
3.740
4.291
.157
.236
.315
.688-.750
1.378
2.008
2.126
2.756
4.055
4.685
.157
.236
.315
.750-.813
1.552
2.181
2.260
2.890
4.386
5.016
.157
.236
.315
.813-.875
1.702
2.293
2.726
3.317
4.694
5.285
.157
.236
.315
.875-.938
1.735
2.404
2.876
3.546
4.884
5.554
.157
.236
.315
.938-1.010
1.846
2.515
3.067
3.736
5.193
5.862
.157
.236
.315