Notifications
Mark all as read
Over 25 Years of Improving Extruder Life
Assisting compounders with improved extruder life for over 25 years, the Conforma Clad™ cloth delivery system enables densely packed tungsten carbide to be uniformly applied to complex geometries, providing a protective barrier that wears at a uniform and predictable rate. With a long history as a pioneer in this technology, Kennametal continues to innovate, providing our customers access to the latest cladding techniques.
Conforma Clad Twin-Screw Barrels for Co-Rotating Extruders:
Resist abrasion from harsh additives used in twin screw compounding
Last up to 3x longer than those protected by competitive materials
Direct-clad components offer excellent heat transfer for better process control
Replacement components available for a variety of major OEM equipment

Tri-Metallic Advantage™
It's all about the technology and experience that you get with Conforma Clad.
Over 20 years ago, Kennametal and Coperion co-developed this tri-metallic wear solution for extruder barrels known as WPR-29.  The same tri-metallic protection is available to end users directly from Kennametal:
Apex Cladding-Tough chip-resistant apex design
Bore Cladding-Formulated for hard, abrasion-resistant bores
4140 Steel-Industry standard heat treatable, medium carbon alloy steel substrate provides toughness to metallurgically bonded claddings.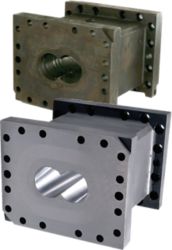 Barrel Inspection and Replacement Liners
Do you have a worn extruder barrel in need of refurbishment? Send it to Kennametal and we will inspect the part and offer our recommendation for refurbishment options.  Inspections include:
Dimensions
Coolant flow
Pressure testing
Visual inspection
Next Generation Cladding Technology: Conforma Clad X2 

X2 cladding uses twin layers of Stellite™ and tungsten carbide, realizing the benefits of both materials. The Stellite under-layer offers superior corrosion protection, eliminating any access of corrosive media to the base material while the tungsten carbide top layer offers the same severe abrasive wear protection on which Conforma Clad built its reputation.
Reverse Engineering Capability
Kennametal Conforma Clad offers a wide range of barrels and barrel liners to fit most common co-rotating twin screw machines.  For new or uncommon parts, we offer full reverse engineering to design custom replacement parts for your setup.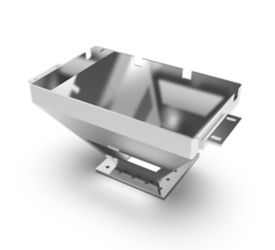 Conveyance Equipment Solutions 
Kennametal also offers cladding solutions for a variety of conveyance equipment including:
Conveyance piping
Chutes and reducers
Rotary airlocks
Cyclone components