Kennametal Revs Up Metal Cutting Innovation with 3D Printed Tool for Automotive Supplier Voith
Building off the success of their award-winning, 3D printed stator bore tool for electric vehicle machining, Kennametal has developed an innovative 3D printed transmission housing tool for Voith that cuts weight by approximately 45% and reduces machining time by approximately 50%.
As transportation components become increasingly more sophisticated and the requirements more stringent, manufacturers need complex tooling solutions to machine those components. That poses a challenge, however, because the weight of such tooling can become too heavy for efficient operation on machining centers, tool changers and tool magazines. Machine operators may also have difficulty managing the tool.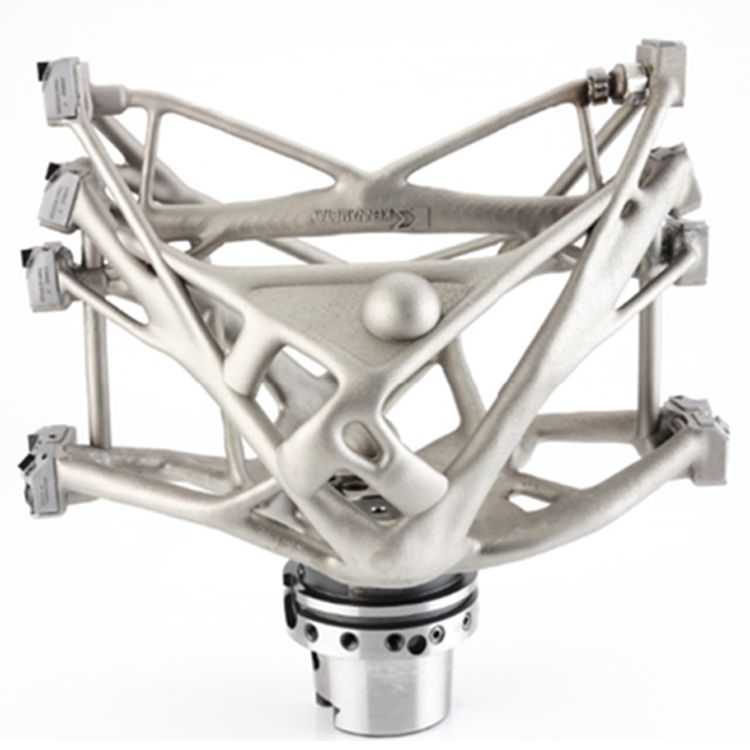 A recent collaboration by Kennametal, an industrial technology leader, and Voith, a leading supplier of drive technologies, shows how 3D printing, or additive manufacturing, offers a pathway to novel, lighter-weight tooling solutions that overcome these challenges while improving productivity and efficiency.
The Challenge: Machine multiple, tight tolerance, large diameter bores with existing machining centers
Voith wanted an innovative solution to further optimize its machining processes for transmission housings. The company needed a multi-stage tool capable of machining multiple bores in one operation to achieve the required tolerances. The tool also needed to have two effective cutting edges on the main diameters to achieve the specified cycle time. Finally, the tool had to weigh less than 12kg to meet the requirements for tool changing and tilting moment on the tool chain.
"Finish machining a large aluminum housing with multiple bores up to 350 mm and IT7 tolerance grade is a demanding application," said Werner Penkert, Manager Product Engineering. "To machine these large bores with such tight tolerances we need very rigid tools which typically means heavy weight. When manufactured using conventional methods a typical tooling solution for this type of application could weigh as much as 25 kg, too heavy for the existing machines or for an operator working with the tool."
Intrigued by how Kennametal leveraged 3D printing to produce a lighter-weight stator bore tool for electric vehicle machining, the Voith team turned to the industrial technology leader to collaborate on a solution.
"Kennametal's innovative approach with 3D printing excited and inspired us to take this path together," says Friedrich Oberländer, Director Production Technology at Voith.
The solution: Kennametal expertise in generative design and 3D printing
As with the stator bore tool, Kennametal leveraged its expertise in metal additive manufacturing—plus the concept of generative design—to meet the demanding requirements of Voith's transmission tool.
With conventional subtractive manufacturing, weight is reduced by removing excess material. But with 3D printing, manufacturers can start with nothing and put material only where it is needed, resulting in lighter-weight, more complex geometries not possible via conventional manufacturing processes.
To fully leverage the design freedom of additive, Kennametal used generative design—an iterative process that optimizes the design of 3D printed parts to meet an application specific set of constraints. The generative design process often results in complex, organic shapes reminiscent of structures found in nature.
In the case of the Voith tool, generative design directly addressed machining forces on the tool, enabling Kennametal to design a solution optimized for stability, stiffness, balancing and coolant supply—with a weight of just 11.5 kg.
Kennametal applied its expertise not only in additive manufacturing but also in machining to produce the tool. The tool pockets are precision machined and designed to be used in combination with Kennametal's proven RIQ inserts technology.
"Additive is one tool in our toolbox, but we also applied our deep expertise in precision machining to develop a novel solution that efficiently addresses the challenges of boring deep holes in conjunction with multiple large diameters,"  Penkert. 
The design of Kennametal's 3D printed transmission housing tool mimics the organic shapes found in nature, delivering reduced weight and a 50% reduction in machining time for customer, Voith. Image credit: Kennametal
The Results: 50% reduction in machining time
Working in close collaboration with Voith, Kennametal manufactured a prototype tool and put it to the test in its demonstration center in Fürth, Germany—part of a global network of test and demonstration centers where the company works with customers to design, iterate and validate machining solutions.
This solution was particularly challenging to achieve both manufacturing and part quality requirements. Design simulation, additive manufacturing, and practical tests in the demonstration center allowed the team to validate the machining results. Voith then conducted first tests on-site, followed by longer-term tests in series production. Further customer requirements were implemented, and the tool was jointly perfected and finalized.
"The Kennametal tool delivered outstanding quality and performance from the first use, achieving a 50% reduction in machining time, while still meeting accuracy and surface finish requirements. Additionally, the reduced weight limits the load on the magazine, tool changer and spindle—effectively reducing maintenance costs, " said Oberländer. "Our collaboration with Kennametal clearly shows the enormous innovation potential of additive manufacturing when applied in such cooperative partnership."