DA Style 08 Fully Floating Holder-SS - inch
DA 08 FF Series Double-Angle Collet Chucks, Fully Floating Holders
| | |
| --- | --- |
| SAP Material Number | 1015910 |
| ISO Catalog Number | SS125FC188888 |
| ANSI Catalog Number | SS125FC188888 |
| [LS] Shank Length | 152.4 mm |
| [LS] Shank Length | 6 in |
| [D] Adapter / Shank / Bore Diameter | 31.7 mm |
| [D] Adapter / Shank / Bore Diameter | 1.25 in |
| [CST] Catalog Collet Series | DA180 |
| Weight Pounds | 3.22 |
| [D2] Body Diameter 1 Workpiece Side | 60.325 mm |
| [D2] Body Diameter 1 Workpiece Side | 2.375 in |
| [D11] Lock Nut Diameter | 43.85 mm |
| [D11] Lock Nut Diameter | 1.726 in |
| [L] Overall Length | 225.42 mm |
| [L] Overall Length | 8.875 in |
| Torque Catalog Foot Pounds | 75 |
See all Product Variants
Features and benefits
Grip 1:1.


Industry standard Erickson™ double-angle collet system.


Recommended only for stationary applications (lathe).


Toolholder provides 0,25mm (.010") movement in all directions to compensate for angular and parallel misalignments.


Hollow design enables coolant through the tool and short projection lengths.


Adjusting nut varies spring tension to compensate for cutter weight.
Spare Parts for DA Style 08 Fully Floating Holder-SS - inch
1 1/2 OPEN END WRENCH

1 1/2 OPEN END WRENCH
180 DOUBLE ANGLE NOSEPIECE ASSY/08/HEX

180 DOUBLE ANGLE NOSEPIECE ASSY/08/HEX
WRENCH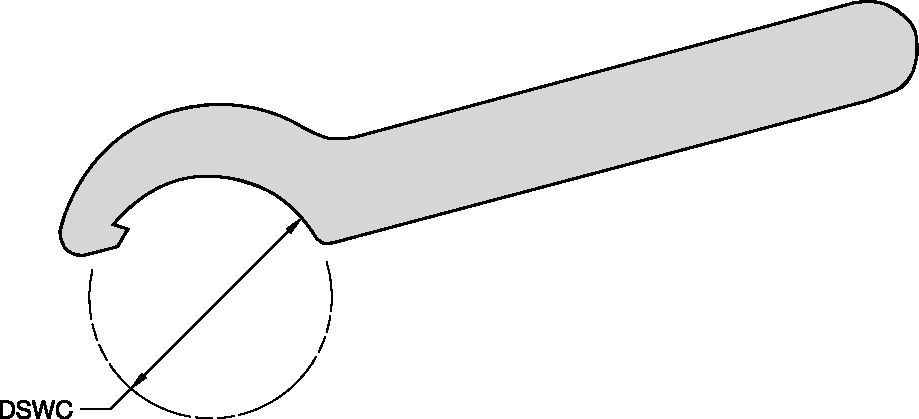 WRENCH