At Kennametal, we understand the critical importance of maintaining current metal cutting knowledge. For that reason, we sell industry-leading tools and give customers access to Kennametal University. Kennametal training provides valuable education on the latest tooling methods, ensuring you have access to the knowledge you need to beat the competition. We offer tooling training for all levels of metal cutting, from novice to advanced. Furthermore, if you cannot find the training you need in our standard curriculum, we can develop a unique training program for you.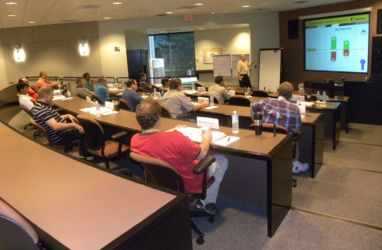 "We have always done it that way."

Don't let this be your mantra for machining methods. Instead, manufacturing companies must adjust methods to stay competitive globally. You need to produce parts more efficiently and accurately.

Education is key to staying competitive. The Kennametal Knowledge Center knows this. We teach the latest machining practices and focus on the process, regardless of the tooling brand you use. Because it doesn't matter what brand of tooling you use if you aren't machining by the best method.
Upcoming Courses in the United States
Upcoming Courses in India
Upcoming Courses in Europe
For more information about courses available in Europe contact us:

phone: +49 911 9735 - 299

The Premier Source for Metalcutting Education
The Kennametal Knowledge Center believes metalworking is a science, not an art. We teach principles and facts in a non-commercial way.
We offer comprehensive application engineering courses; industry- and application-specific courses, customer onsite programs, and the online-based certified metalcutting professional (CMP) program. Courses range from online to in-person over several days. 
Contact us today for more details: na-knowledge.center@kennametal.com