Standard and Threaded Nozzles for Downhole Drilling
Kennametal makes standard and threaded nozzles for use in roller cone and fixed cutter drill bits. Nozzles are available in a wide range of styles and size combinations for most downhole drilling applications. Our field-tested grades are designed for the maximum toughness and wear resistance in high-torque capacity applications.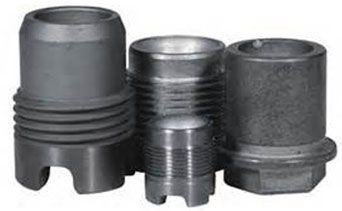 Our custom-designed threaded nozzles are manufactured with these features:
Rosca rectificada
Unground thread
Brazed steel retainer
Castle top
Hex head
Cap top
Diseño exclusivo.
Standard nozzles are available in these styles and sizes:
Ranuras.
Shrouded
Non-shrouded
Flangeless
Extended – tapered, straight, center jet