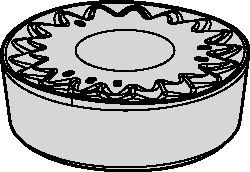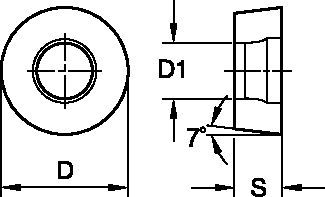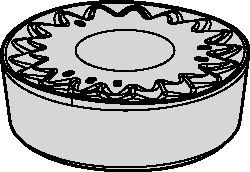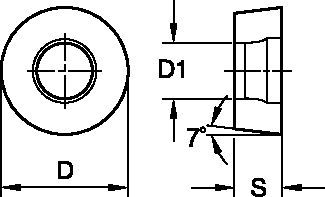 RCMX-RU
Amarre mediante pasador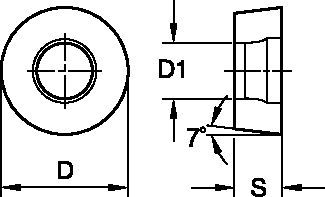 keyFilters
Workpiece Material
P0

Low-Carbon Steels, Long Chipping

C < .25%; <125 HB; <530 N/mm^2 UTS

(

2

)

P1

Low-Carbon Steels, Short Chipping

C < .25%; <125 HB; <530 N/mm^2 UTS

(

2

)

P2

Medium and High Carbon Steels

C < .25%; <220 HB; <25 HRC; >530 N/mm^2 UTS

(

2

)

P3

Alloy Steels & Tool Steels

C > .25%; <330 HB; <35 HRC; 600-850 N/mm^2 UTS

(

2

)

P4

Alloy Steels & Tool Steels

C > .25%; 350-420 HB; 35-43 HRC; 850-1400 N/mm^2 UTS

(

2

)

P5

Ferritic, Martensitic, and PH Stainless Steels

<330 HB; <35 HRC; 600-900 N/mm^2 UTS

(

2

)

P6

High Strength Ferritic, Martensitic, and PH Stainless Steels

350-450 HB; 35-43 HRC; 900-2400 N/mm^2 UTS

(

2

)

K1

Gray Cast Iron

120-290 HB; <32 HRC; 125-500 N/mm^2 UTS

(

2

)

K2

Low and Medium Strength CGI and Ductile Irons

130-260 HB; <28 HRC; <600 N/mm^2 UTS

(

2

)

K3

High Strength Ductile and Austempered Ductile Iron

180-350 HB; <43 HRC; >600 N/mm^2 UTS

(

2

)
cornerConfiguration
Corner Radius
Corner Radius Min
to
Corner Radius Max
Corner Radius
Corner Radius Min
to
Corner Radius Max
insertGeometry
Insert IC Size
Insert IC Size Min
to
Insert IC Size Max
Insert IC Size
Insert IC Size Min
to
Insert IC Size Max
No filters matching ""
Change the visible columns with any of the parameters listed below. A maximum of 7 columns can be displayed.
Displaying
1-

2
of
2
results
SAP Material Number
ISO Catalog Number
ANSI Catalog Number
Grade
[D] Insert IC Size
[D] Insert IC Size
[D1] Insert Hole Size
[D1] Insert Hole Size
[S] Insert Thickness
[S] Insert Thickness
4035586
RCMX3209M0RU
RCMX3209M0RU
KCK20
32.0000
1.259
9.7800
.3850
9.5250
.3750

List price:

$82.23

/each.

4035593
RCMX2507M0RU
RCMX2507M0RU
KCK20
25.0000
.9844
7.1900
.2830
7.9400
.3125

List price:

$46.68

/each.
Replacement
This item is not available
Replacement Product
This item may be available through a distributor
Grades
KCK20

Un nuevo metal duro PVD recubierto de AlTiN + AlCrN multicapa con una excelente combinación de resistencia al desgaste y resistencia de recubrimiento.
La calidad KCK20 está diseñada específicamente para maximizar la adhesión del recubrimiento y la resistencia del filo, por lo que es la calidad ideal en cortes interrumpidos en húmedo de fundiciones dúctil y gris, y también se puede utilizar en condiciones secas.
Puede aplicarse en una amplia gama de aplicaciones desde el acabado al desbaste para maximizar la productividad allí donde se necesite resistencia y fiabilidad.

KCP10

Composición: una calidad de metal duro enriquecida con cobalto diseñada especialmente con un grueso recubrimiento MTCVD-TiCN-Al2O3 para una máxima resistencia al desgaste.
Aplicación: una calidad excelente para mecanizados de acabado a medio para una variedad de materiales de piezas de trabajo incluidos la mayoría de aceros, aceros inoxidables ferríticos, martensíticos, PH y fundiciones. El sustrato enriquecido con cobalto ofrece una combinación equilibrada de resistencia a la deformación y tenacidad del filo, mientras que las capas gruesas de recubrimiento ofrecen una excelente resistencia a la abrasión y resistencia al desgaste del cráter para mecanizado a altas velocidades. El suave recubrimiento proporciona una buena resistencia al recrecimiento del filo y al microastillado y produce unos excelentes acabados superficiales.


KCP25

Composición: Una calidad de metal duro tenaz enriquecida con cobalto con un nuevo recubrimiento MTCVD-TiCN-Al2O3 multicapa con una excelente adhesión entre capas.
Aplicación: la mejor calidad de torneado general para la mayoría de aceros y aceros inoxidables ferríticos y martensíticos. El diseño del sustrato asegura una resistencia adecuada a la deformación con una excelente resistencia del filo de la plaquita. Las capas de recubrimiento ofrecen una buena resistencia al desgaste en una amplia serie de condiciones de mecanizado y el tratamiento posterior al recubrimiento minimiza el microastillado y mejora la adhesión del recubrimiento al sustrato, lo que se traduce en una mayor vida de la herramienta y unos acabados mejorados de la pieza de trabajo.


KCU10

Composición: Recubrimiento PVD avanzado sobre un sustrato de metal duro no aleado muy resistente a la deformación. El nuevo y mejorado recubrimiento mejora la estabilidad del filo con una amplia serie de capacidades de velocidad y avance.

Aplicación: la calidad KCU10™ es ideal para operaciones de acabado a mecanizado general de la mayoría de los materiales de pieza de trabajo en una amplia gama de capacidades de velocidad y avance. Excelente para mecanizar la mayoría de los aceros, aceros inoxidables, fundiciones, materiales no ferrosos y superaleaciones con una tenacidad de filo mejorada y mayor capacidad de velocidad/avance de corte.