Sign In
New Customer
Are you new to Kennametal? Create an account and get started.
Create Account
---
Registered Customer
Already have an account? Sign in.
Sign In
New Customer
Are you new to Kennametal? Create an account and get started.
Create Account
---
Registered Customer
Already have an account? Sign in.
Sign In
Si vous possédez une excavatrice de tranchées, vous devez être rapide, efficace et rentable pour participer à des appels d'offres et remporter des marchés. Vous recherchez des inserts et des trépans qui vous aident à achever un travail rapidement pour passer au suivant. Vous ne pouvez pas vous permettre d'avoir des outils qui vous font ralentir.
Il est important que la matière dans laquelle on creuse soit pulvérisée à la grosseur nécessaire pour revenir à la tranchée. Une matière bien concassée fait un excellent matériau de rembourrage et matériau de remplissage de tranchées. Elle supprime également l'aire résiduelle en trop et accélère le creusement. Vous êtes sur tous les fronts, à votre poste comme au-dehors, plus vite et avec davantage d'efficacité.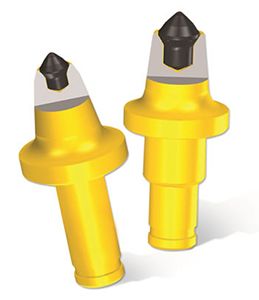 Trépans "GOLD" X
Les trépans et inserts Kennametal de la série GOLD "X" sont conçus en pensant à vous. Des queues de différentes dimensions et toute une gamme de trépans carbure sont capables de s'attaquer à une palette encore plus étendue de matières concassées et de conditions.
Les outils GOLD X sont conçus munis de corps extrêmement solides, fabriqués sur toute la tête dans une dureté brevetée. Résultat : ultra-hautes performances sur toute la durée de vie de l'outil, par rapport aux outils déjà disponibles sur le marché.
Qu'est-ce que cela veut dire pour votre entreprise ? Moins de dents de coupe, moins de temps d'utilisation et des frais d'exploitation extrêmement réduits. En outre, les outils GOLD X sont équipés de notre tout dernier modèle d'insert pour le maximum de pénétration et des collerettes extra-larges pour une protection inégalée des inserts.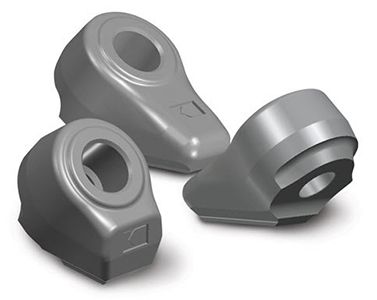 Inserts MyT™
Lorsque vous avez une tâche extrêmement difficile de creusement, il vous faudra un système d'inserts très solide. Nous avons conçu spécialement les inserts MTB1 et MTB2S MyT™ pour des tâches de creusement difficiles.
Ces inserts présentent un grand corps de foret robuste. Nous avons conçu le chanfrein J au bon angle d'appui pour les fraises et lui avons donné 25% de surface supplémentaire pour souder l'insert sur la machine. Le canon accroît la rotation de la dent et le fond plat signifie que l'insert est plus stable et reste en place pendant qu'il tourne.
Mais nous ne nous sommes pas arrêtés là. Nous gardons la maîtrise des dimensions critiques pendant la fabrication grâce à notre procédé de forgeage d'avant en arrière. C'est important pour aléser l'insert. Cela signifie que le trépan se fixe plus solidement dans l'insert et pénètre mieux, spécialement dans des conditions de coupe difficiles. Le large bossage arrière situé sur les inserts MyT facilite le montage et le démontage des étriers ; en outre, l'accès à l'arrière de l'insert s'en trouve facilité.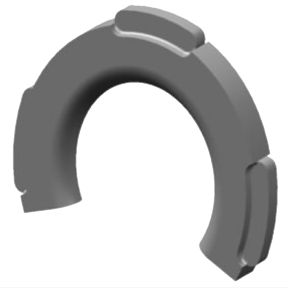 Circlips
Les agrafes et accessoires de maintien complètent l'ensemble. Le cran droit situé sur le foret maintient le foret dans l'insert. Ceci réduit les risques pour la sécurité au travail.
Nos agrafes TR1-D et TR3 vous permettront d'installer et de retirer rapidement et facilement l'outil dans l'insert. En outre, ces agrafes permettent au foret de tourner librement en cours d'utilisation.
Des "oreilles" de forme spéciale situées sur l'agrafe entraînent un positionnement et un centrage simples, tout en améliorant la sécurité de l'opérateur. Utilisez le mandrin de fixation TR1-D de Kennametal pour tous les outils de la série X "en T" et le mandrin de fixation TR3 pour tous les outils "TSC" de la série X.