Mill 4™ - 90° SHOULDER MILLING TO THE EXTREME
The Mill 4 Series is specially engineered to achieve excellent surface quality and higher metal removal rates in shoulder milling applications. Its unique design allows you to apply the tool in multiple passes (step down) with outstanding results. From roughing to finishing operations, the Mill 4 series is applicable in a wide range of workpiece materials: steel, cast iron, stainless steel, non-ferrous materials, and high-temp alloys.

Double-sided strong insert with 4 cutting edges.
High positive geometry for lower cutting forces.

Superior wall and suface finish capabilities.

Comprehensive offering to cover all applications in all material groups.

Part of the First Choice Program.

Easy to select, easy to order, easy to apply, exceptional performance. Learn more about First Choice:
STEPLESS SOLUTIONS
A challenge with step down applications is that most tools leave tool marks with every pass they take, resulting in unsatisfactory or low quality wall finishes, which require another finishing pass at the very end of the process.
Applying Mill 4™ delivers pristine wall finishes, and eliminates that finishing pass with an additional tool. That saves you time and reduces your production cost.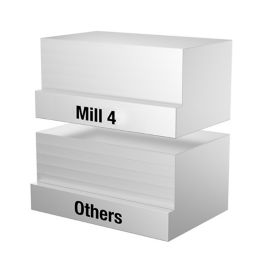 Show Filters
Filter By:
Show dimensions in:
ワーク素材
Stainless Steel

(60)

Steel

(60)

High-Temp Alloys

(58)

Cast Iron

(38)

Non-Ferrous Materials

(16)

Hardened Materials

(1)
グレード
KC725M

(45)

KCSM40

(34)

KCPK30

(32)

KCPM40

(28)

KC522M

(23)

KC520M

(22)

KCK15

(17)

KCPM20

(11)

KC410M

(7)

KCSM30

(6)

SP6519

(6)

X500

(6)

KC422M

(5)

KC730

(4)

GH1

(2)

KC525M

(2)

KTPK20

(2)

MP91M

(2)

KC510M

(1)

KC735M

(1)

KCK20

(1)

KD1410

(1)

KY3500

(1)
プラットホーム
Mill 1-10

(18)

Mill 1-14

(18)

KSSM

(17)

HARVI Ultra 8X

(16)

Mill 1-18

(14)

Stellram

(14)

Mill 4-15

(11)

Mill 4-11

(9)

KICR

(6)

Chamfer Mills

(3)

Mill 4-12KT

(3)

NGE-A

(3)

ADKT

(2)

Mill 1-7

(2)

ADCT

(1)

ADPT

(1)

NGEB

(1)
チップブレーカー[CBMD] (METRIC)
GE

(13)

LD

(11)

GD

(6)

GB2

(4)

GDH

(4)

HD

(3)

LE

(3)

41

(2)

422

(2)

423

(2)

721

(2)

GB

(2)

GEM

(2)

LD2

(2)

GC

(1)

GD2

(1)

GEH

(1)

GN

(1)

GP

(1)

HD2

(1)

LC

(1)
チップブレーカー[CBMD] (INCH)
GE

(13)

LD

(11)

GD

(6)

GB2

(4)

GDH

(4)

HD

(3)

LE

(3)

41

(2)

422

(2)

423

(2)

721

(2)

GB

(2)

GEM

(2)

LD2

(2)

GC

(1)

GD2

(1)

GEH

(1)

GN

(1)

GP

(1)

HD2

(1)

LC

(1)
形状 (METRIC)
S-Square 90

(28)

E-Parallelogram 70

(23)

X-Rectangle Mill 4 90

(11)

A-Parallelogram 85

(5)

X-Parallelogram 75

(5)

X-Parallelogram 70

(3)

Z-Parallelogram 89.27

(2)

L-Rectangle On Edge 90

(1)
形状 (INCH)
S-Square 90

(28)

E-Parallelogram 70

(23)

X-Rectangle Mill 4 90

(11)

A-Parallelogram 85

(5)

X-Parallelogram 75

(5)

X-Parallelogram 70

(3)

Z-Parallelogram 89.27

(2)

L-Rectangle On Edge 90

(1)
手を挿入 (INCH)
R - Right

(57)

N - Neutral

(23)

L - Left

(7)
手を挿入 (METRIC)
R - Right

(57)

N - Neutral

(23)

L - Left

(7)
ICサイズを挿入 (METRIC)
12.7000

(14)

10.0000

(8)

9.5250

(7)

6.7000

(2)

8.3060

(2)

9.5200

(1)
ICサイズを挿入 (INCH)
0.5000

(14)

0.3750

(8)

0.3940

(8)

0.2640

(2)

0.3270

(2)
センターカット (METRIC)
No Center Cutting

(50)

Center Cutting

(1)
センターカット (INCH)
No Center Cutting

(50)

Center Cutting

(1)
システムサイズ (INCH)
BTF46

(1)

CV50

(1)

CV50F

(1)

CV60F

(1)

HSK100A

(1)

HSK125A

(1)

KM4X100

(1)
システムサイズ (METRIC)
BTF46

(1)

CV50

(1)

CV50F

(1)

CV60F

(1)

HSK100A

(1)

HSK125A

(1)

KM4X100

(1)