Notifications
Mark all as read
KNS® Slotting Mill • Arbour Mount • Metric
KNS® Slotting Mill • Arbour Mount
| | |
| --- | --- |
| SAP Material Number | 5614842 |
| ISO Catalog Number | KNSM160N10X42K040 |
| ANSI Catalog Number | KNSM160N10X42K040 |
| Insert Size [SSC] | 42 |
| [D1] Effective Cutting Diameter | 160.0000 mm |
| [D1] Effective Cutting Diameter | 6.299 in |
| [CDX] Radial Maximum Depth of Cut | 51.0000 mm |
| [CDX] Radial Maximum Depth of Cut | 2.008 in |
| [D] Adapter / Shank / Bore Diameter | 40.0 mm |
| [D] Adapter / Shank / Bore Diameter | 1.58 in |
| [D6] Hub Diameter | 55.0000 mm |
| [D6] Hub Diameter | 2.165 in |
| [L1S] Secondary Gage Length | 9.5000 mm |
| [L1S] Secondary Gage Length | .3740 in |
| [THUB] Hub Thickness | 19.0000 mm |
| [THUB] Hub Thickness | .7480 in |
| Number of Inserts | 10 |
| Weight Kilograms | 0.66 |
| Gage Insert | XCP42_____ |
| Max RPM | 533 |
See all Product Variants
Features and benefits
Two-keyway hub design for gang slotting applications.


From light to heavy machining, the positive SGP chipbreaker geometry ensures smooth cutting action, and efficient chip evacuation.


The Double-V Design of the insert and the insert pocket securely holds the insert in place and minimizes radial runout.


A unique self-clamping mechanism ensures easy insert exchange.
Material Group
LightMachining
GeneralPurpose
HeavyMachining
(Light geometry)
(Strong geometry)
wear resistance
toughness
Geometry
Grade
Geometry
Grade
Geometry
Grade
P1–P2
.S..GP
KCU25
.S..GP
KCU25
.S..GP
KCPM40
P3–P4
.S..GP
KCU25
.S..GP
KCU25
.S..GP
KCPM40
P5–P6
.S..GP
KCU25
.S..GP
KCU25
.S..GP
KCPM40
M1–M2
.S..GP
KCU25
.S..GP
KCPM40
.S..GP
KCPM40
M3
.S..GP
KCU25
.S..GP
KCPM40
.S..GP
KCPM40
K1–K2
.S..GP
KCU25
.S..GP
KCPK30
.S..GP
KCPK30
K3
.S..GP
KCU25
.S..GP
KCPK30
.S..GP
KCPK30
N1–N2
.S..GP
KCU25
N3
.S..GP
KCU25
S1–S2
.S..GP
KCU25
.S..GP
KCU25
.S..GP
KCU25
S3
.S..GP
KCU25
.S..GP
KCU25
.S..GP
KCU25
S4
.S..GP
KCU25
.S..GP
KCU25
.S..GP
KCU25
Recommended Starting Feeds [mm]
Insert Geometry
Recommended Starting Feed per Tooth (Fz) in Relation to % of Radial Engagement (ae)
Insert Geometry
5%
10%
20%
30%
.S..GP
0,13
0,28
0,35
0,09
0,20
0,32
0,07
0,15
0,32
0,06
0,12
0,30
.S..GP
| | | |
| --- | --- | --- |
| LightMachining | GeneralPurpose | HeavyMachining |
Recommended Starting Feeds [IPT]
Insert Geometry
Recommended Starting Feed per Tooth (Fz) in Relation to % of Radial Engagement (ae)
Insert Geometry
5%
10%
20%
30%
.S..GP
.005
.011
.027
.004
.008
.020
.003
.006
.015
.002
.005
.012
.S..GP
| | | |
| --- | --- | --- |
| LightMachining | GeneralPurpose | HeavyMachining |
Recommended Starting Speeds [m/min]
Material Group
KCPK30
KCPM40
KCU25
P
1
365
320
270
200
190
150
260
230
215
2
280
255
230
190
175
140
220
190
160
3
255
230
205
170
145
120
200
170
140
4
190
175
160
150
130
90
180
150
120
5
260
230
210
105
75
60
150
135
120
6
160
135
120
75
60
50
130
100
80
M
1
–
–
–
170
150
135
210
170
135
2
–
–
–
155
130
110
170
150
110
3
–
–
–
115
100
80
130
120
85
K
1
260
230
205
–
–
–
270
220
170
2
235
210
190
–
–
–
230
190
160
3
195
175
160
–
–
–
210
160
140
N
1
–
–
–
–
–
–
760
680
400
2
–
–
–
–
–
–
710
550
350
3
–
–
–
–
–
–
620
490
320
S
1
–
–
–
30
25
25
30
25
20
2
–
–
–
30
25
25
30
25
20
3
–
–
–
40
30
25
40
30
20
4
–
–
–
50
40
25
55
40
25
Recommended Starting Speeds [SFM]
Material Group
KCPK30
KCPM40
KCU25
P
1
1200
1050
890
660
620
500
860
750
700
2
920
835
755
620
580
460
720
630
530
3
835
755
675
550
480
390
660
560
460
4
625
575
525
490
420
300
590
490
390
5
855
755
690
350
250
200
490
440
390
6
525
445
400
250
200
160
430
330
260
M
1
–
–
–
560
490
450
690
560
450
2
–
–
–
510
430
360
560
500
360
3
–
–
–
380
330
260
430
400
280
K
1
850
760
665
–
–
–
890
720
560
2
770
690
630
–
–
–
760
630
530
3
645
575
530
–
–
–
690
530
460
N
1
–
–
–
–
–
–
2500
2230
1310
2
–
–
–
–
–
–
2330
1800
1150
3
–
–
–
–
–
–
2030
1600
1050
S
1
–
–
–
–
–
–
100
85
60
2
–
–
–
–
–
–
100
85
60
3
–
–
–
–
–
–
125
100
60
4
–
–
–
–
–
–
175
125
85
Spare Parts for KNS® Slotting Mill • Arbour Mount • Metric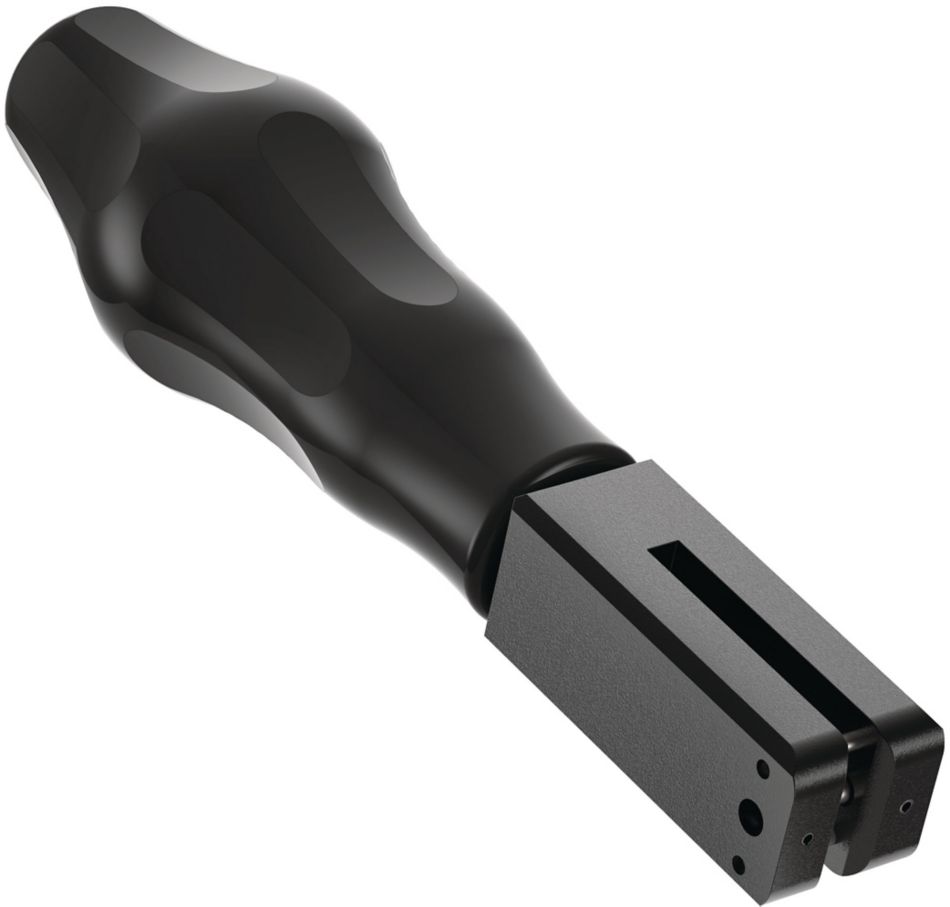 KNS SLOTTING WRENCH 4.2MM

Spare Part ANTI-SEIZE LUBRICANT