Kennametal Board Member William J. Harvey Named Honoree in the 2020 Directorship 100™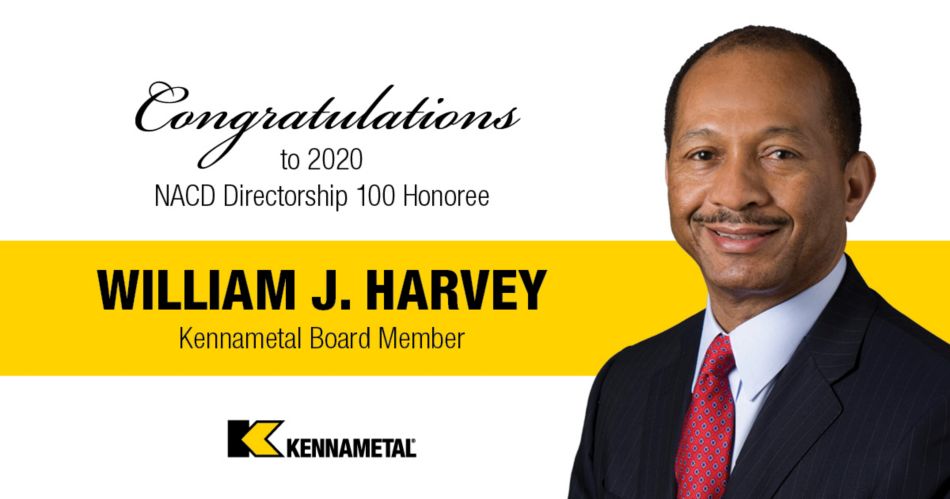 The National Association of Corporate Directors (NACD), an authority on leading boardroom practices, has named Kennametal Board Member William J. Harvey an honoree in the 2020 Directorship 100™, an annual recognition of corporate directors and governance influencers who play a significant role in shaping the greater boardroom agenda.
"We extend our congratulations to Bill on this well-deserved achievement and recognition," said Christopher Rossi, Kennametal President and Chief Executive Officer. "Bill consistently exemplifies the knowledge, leadership, and excellence expected of a boardroom role, and we are privileged and grateful to have him as a member of our board."
Harvey was chosen to receive this prestigious recognition by the NACD Directorship Selection Committee after being nominated by his peers and meeting the criteria that reflect NACD's standards of director professionalism, including integrity, mature confidence, informed judgment and high-performance standards. Exemplifying the knowledge, leadership and excellence that NACD promotes, he will be one of 50 public company directors and 50 governance professionals and institutions to be honored at the 2020 Virtual NACD Summit taking place on October 12.
A member of Kennametal's board of directors since 2011, Mr. Harvey serves as Chair of the Nominating/Corporate Governance Committee, as well as a member of the Kennametal Compensation Committee. He is the retired President of DuPont Packaging & Industrial Polymers, a multi-billion dollar global business unit of science and technology-based E.I. DuPont de Nemours & Company. Mr. Harvey holds a Bachelor's degree in Economics from Virginia Commonwealth University and a Master's degree from the University of Virginia Darden Graduate School of Business. In addition to his involvement with Kennametal, he is Vice-Chair of the Board of Trustees of Washington College where he serves on the Executive Committee and chairs the Admissions and Financial Aid Committee. He is also a member of the board of directors of Bridgestone Americas, Inc.; Huber Engineered Woods LLC; and Origin Materials.  Previously, Mr. Harvey held Board of Trustee positions at the Darden School at the University of Virginia and Delaware State University.