Evaporator Boats Significantly Boost Metallizing Productivity
Kennametal Sintec is recognized globally in the metallizing industry as the leading supplier of ceramic evaporator boats.  Companies around the world rely on Kennametal Sintec for our ceramic evaporator boats, which provide the highest quality and optimized performance through application specific sizes, resistivity, and boat surface technology. Our global sales team provides on-site technical support and operator training allowing our customer to maximize performance and value.
Evaporator Boats Product Offering
Our ceramic evaporator boats are known throughout the metallizing industry for their innovative designs, high level of quality, and superior value.  Learn more about what makes them better.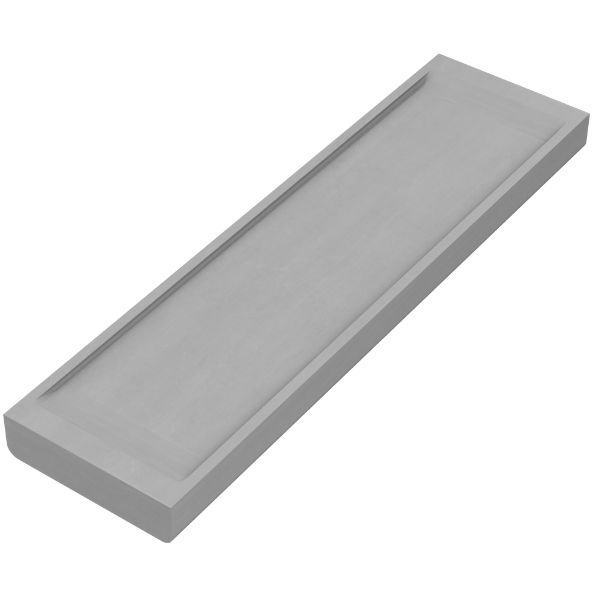 | | | | | | |
| --- | --- | --- | --- | --- | --- |
| Benefits | Rectangular | T-Vap | T-Vap Plus | T-Vap Select | T-Vap Max |
| The original design can be utilized with either side clamping (armchair) or end clamping. | • |   |   |   |   |
| Maximize surface evaporation while improving the temperature uniformity. |   | • | • | • | • |
| Lower power consumption and increase yield of aluminum to the substrate. |   | • | • | • | • |
| Improved initial wetting for faster startups. |   |   | • | • |   |
| Ease of use providing operators a visual indication for initial temperature adjustment. |   |   |   | • |   |
| Significantly extends boat life, boosting metallizing productivity. |   |   |   |   | • |
| Prevents metal overflow and dramatically reduces spitting. |   |   |   |   | • |
Evaporator Boat – Characteristics and Applications
2-Component

2-Component evaporator boat is the most common product for most evaporation applications
Particularly suitable for food package metallization process
Good performance in AlOx metallization process
High evaporation compared to 3-component family  
2-Component Premier
Improved corrosion resistant at high temperature
Higher evaporation rate as it works with high temperature
Developed for customers that need high coating thickness and high evaporation rate
3-Compontent Family
     G-Comp:

An economic option for an evaporator boat
Can be used for both food package and capacitor metallization
Lower evaporation coefficient than 2-Component boat
     C-Comp:
Higher AlN content than G-Component, therefore higher mechanical strength than G-comp and less creeping (bending of the boat)

Mainly used in capacitor metallizing application, where evaporation rate is lower than food package metallization and the usage time (wet time) is much longer (up to a week or more) than in food package metallization (up to 15 hours)
      3-Comp:
Highest purity in all composition
Perfect balance point in thermal shock/high temp mechanical, which could meet special application.
Not used for evaporator boat application
Use for crucible for OLED/semi-conductor, where purity and high temperature properties are critical for the application
4-Component
Highest application temperature
For various metals, including aluminum (Al), copper (Cu), zinc (Zn), chrome (Cr), nickel (Ni), tin* (Sn), and silver* (Ag). 

* with available C-Power coating

A History of Advancing Technology
For more than 35 years, Kennametal Sintec has served the metallizing industry with a team dedicated to boat development and solely focused on manufacturing ceramic evaporator boats. As one of the world's largest ceramic evaporator boat manufacturers, we offer solutions that fit all major OEM metallizers. Our experience has led to the development of numerous design innovations that greatly increase the standard of performance for ceramic evaporator boats. We've always been known for having close working relationships with customers like you. Having a close understanding of the industry requirements has led to many of our innovations.
1980s Rectangular  
The original design dates back to the 1960s when all evaporator boats were clamped from the sides.
1996 ECO-VAP
Developed in 1996 to provide wetting and improved cost effectiveness, this product has found its niche where lower evaporator rates are needed and where uniformity, heat generation, and efficiency are crucial.
2000s T-VAP
Product introduced in early 2000s has revolutionaized metallizing.
Designed to maximize surface area for maximum evaporation while improving the temperature uniformity across the usable surface of the boat.
Increases yield of aluminum to the substrate (lowers aluminum usage), lowers power consumption, and simplifies wetting of the surface compared to standard boats.
2005 T-VAP Plus  
Developed to deliver improved wetting during the initial heating cycle.
The coating enables easier wetting on the desired surface of the heater.
Improved wetting leads to more efficent evaporation and improved life of your heater.
2010 T-VAP Select
Developed to deliver improved wettability for high evaporation rates.
All of th edvantages of T-VAP family with additional select surface to increase wettability and increased ease of use for initial temperature adjustment.
2013 T-VAP MAX
Significantly extends boat life
Prevents metal overflow.
Dramatically reduces spitting.
Highest boat surface utilization.
Boosts metallizing productivity.
2016 2-Comp Premier
Increase evaporation rates when coating higher optical density.
Up to 20% longer boat lifetime
Less spitting due to homogeneous wetting in same boat design.