Notifications
Mark all as read
A Slurry-Based, Wear-Resistant Surface Treatment from Kennametal
Available in both tungsten carbide (WC) and Stellite™ formulations, UltraFlex™ can be applied to a broad range of steel and nickel-based alloys. Ultraflex is a premium wear solution for cladding difficult geometries such as IDs and non-line-of-sight features that are difficult to protect with other hard facing solutions, such as weld overlays and thermal sprays.
Surface Quality
UltraFlex has a smooth to the touch surface quality that may benefit some applications. It is often used in petrochemical applications that involve multiple wear mechanisms.
In contrast to traditional welding, the UltraFlex process metallurgically brazes the wear system directly to the substrate in a vacuum furnace. This eliminates high localized heat and the associated heat affected zone (HAZ), essentially eliminating dilution of the cladding.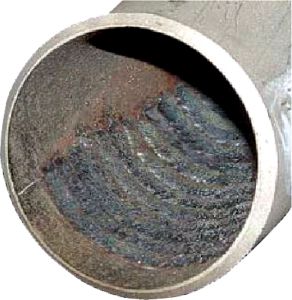 Tungsten carbide UltraFlex is typically applied 0.015 – 0.020" thick for applications where erosion is the primary wear mechanism, such as conveyance piping used for abrasive/erosive solids and liquids.
Stellite 720 UltraFlex, which is unavailable as a casting or weld overlay, is typically applied 0.020 – 0.040" thick for applications involving erosion, corrosion, elevated temperature or any combination of these conditions.
A Metallurgical Bond Prevents Spalling
The vacuum brazing process produces a true metallurgical bond between the cladding and substrate for both tungsten carbide and Stellite UltraFlex. The bond strength is on the order of 70,000 psi, meaning the cladding will not spall during service due to a weak mechanical bond.
Stellite and Tungsten Carbide (WC) UltraFlex Claddings are compatible with:
Carbon steels
Alloy steels
Tool steels
Austenitic stainless steels
Precipitation hardening stainless steels
Martensitic stainless steels
Cast carbon, alloy, and stainless steels
Ni-based alloys
Co-based alloys