Petrochemical & Refining Solutions
Refineries process some of the world's most aggressive fluids and slurries. In these harsh environments, the life of key components can be severely limited by extreme erosive and corrosive wear, leading to increased maintenance costs, reduced reliability, and increased downtime.

Kennametal's refinery wear solutions leverage our broad portfolio of tungsten carbide and Stellite™ alloy grades, delivered as either a cladding or a solid component. Our materials offer the flexibility to address erosion, corrosion, and high-temperature wear across a wide range of applications.
API pumps can be fully protected with a dense, metallurgically bonded tungsten carbide cladding, significantly improving pump life in challenging applications such as: bottoms pumps; residual oil pumps; coke drum charge pumps; coke pit pumps; FCC charge pumps; and slurry pumps. 
1. Fluid Catalytic Cracking Unit        2. Delayed Coker        3. Vacuum Distillation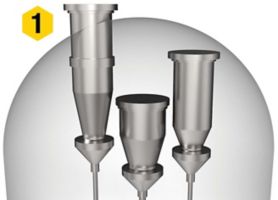 Coker Furnace Radiant Return Bends