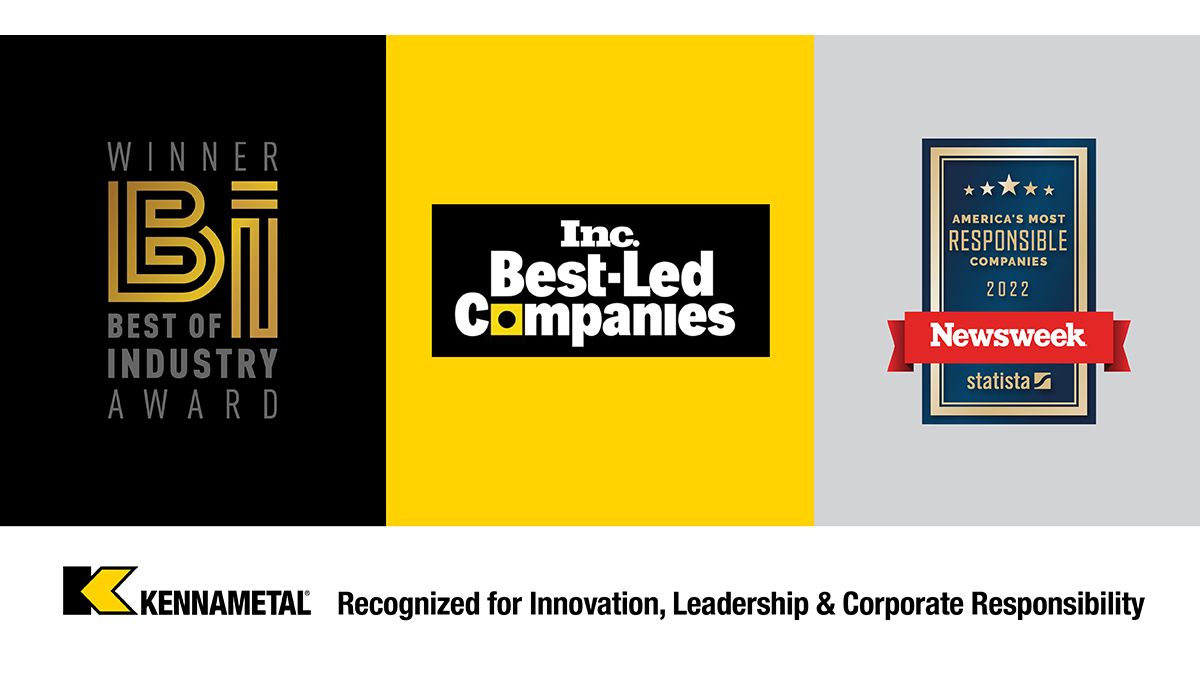 Kennametal Awarded Three Top Honors for Innovation, Leadership and Corporate Responsibility
Kennametal is pleased to announce it has received three top honors – recognized for management excellence, industry innovation and corporate responsibility. Kennametal was recently named to Newsweek's 2022 List of Americas Most Responsible Companies. This comes at the heels of being named to Inc.'s inaugural 2021 Best-Led Companies list and receiving German trade magazine MM MaschinenMarkt's Best of Industry Award in Production and Manufacturing
Inc.'s inaugural 2021 Best-Led Companies list — a select, data-driven list of U.S.-based companies with the strongest management excellence and revenue of $50 million to $2 billion. Kennametal was one of 250 companies selected from an applicant pool of more than 10,000 midsize firms. Inc. selected winners based on four key areas: performance and value creation; market penetration and customer engagement; talent; and leadership team. The complete Inc. Best-Led Companies List is included in the November issue of Inc. magazine and is also available here. 
Best of Industry Award by MM MaschinenMarkt — Kennametal's 3D-printed stator bore tool was selected as a winner of the German trade magazine MM MaschinenMarkt's Best of Industry Award. Manufactured at our plants in Germany, the stator bore tool won in the Production & Manufacturing category from among 130 submissions. More about 3D-printed stator boring tool here.
Newsweek's 2022 List of Americas Most Responsible Companies — a list of the top 500 most responsible companies in the United States across 14 different industries. This list recognizes corporations that step up – that care about being good citizens and give back to the communities they operate in. Kennametal was selected based on publicly-available key performance indicators taken from corporate social responsibility reports, sustainability reports and corporate citizenship reports – as well as an independent survey of U.S. residents. See the full list here.