Competitive Analysis: Scan of Braze Joint
A fluxing agent is commonly used to aid in wetting of the carbide to the steel. This may help mitigate some issues referenced above.

However, there are downsides.
The flux is corrosive and is difficult to evacuate, which results in voids under the tile (as shown in the images below) these voids are very common, and when located at an edge can allow the fluids in the centrifuge to enter and cause accelerated crevice corrosion and ultimately lead to the carbide disbonding from the backing plate.
Wear resistance of the carbide tile is always a concern, and Kennametal has that covered with our industry proven grades, but really the biggest issue we see in the market is tile delamination.
Brazing preparation is a key concern. Oils and other contaminants like surface oxidation on the carbide and steel components can prevent a good bond from forming. You can also have variability in the braze joint and quality of the bond depending on experience of the brazing technicians experience level.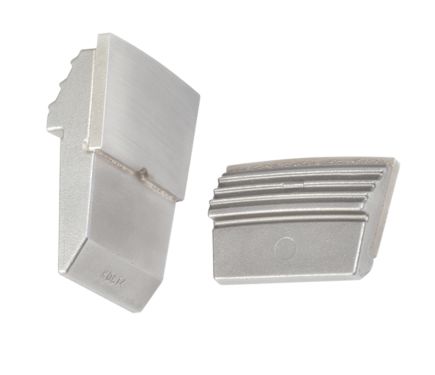 Competitive Brazed Tiles - Note: White Areas are Voids

Our answer to these brazing challenges has been to apply our proven brazing technology and develop a total solution to eliminate the with decanter centrifuge tiles. Resulting in a virtually void free bond between carbide and steel.
How do we achieve this?
Multistep surface preparation with both carbide and steel
Proprietary braze formula that is corrosion resistant and does not use flux
Our self-fixturing carbide mates to the steel for a consistent joint thickness and does not rely on the technician's skill to achieve.
Best in class, corrosion resistant carbide made from our own grades.
That is why we believe our tile is the most reliable tile offered to the rebuilder market today.
Kennametal KDCT4 Brazed Tiles - Virtually Void Free
Kennametal's Technical resources are second to none, it's our not-so-secret weapon that has allowed us to develop the best centrifuge tile on the market. Our quality assurance and validation steps include:
Ultrasonic C-Scan of braze joint
Microstructure Evaluation of braze joint
100% visual inspection of external braze joint and of carbide
ASTM G65 Procedure A – Abrasive Wear Testing
Corrosion Testing – Gravimetric and Potentiostatic methods
Salt Water Immersion Testing
Rockwell Hardness Testing of Steel Backer after brazing