Hardness:
Hardness is determined by the percentage of binder and the grain size of the tungsten carbide particles. Generally, the more binder, the lower the hardness, and the larger the grains, the lower the hardness.
Wear Resistance
Generally, grades with more binder or coarser grains, (lower hardness), the wear or abrasion resistance will be less. However, there will be an increase in strength. It is always necessary to balance high hardness/ high wear resistance with lower hardness/high strength. To test the abrasion or wear resistance of our carbide grades, we typically conduct a dry sand (G65) or slurry test (B611). 
Strength
The amount of binder and the variation in grain size will also affect the impact strength (a shock load) and the fracture toughness (a measure of crack initiation and crack propagation). More binder and/or coarser grains will generally increase the impact strength and the fracture toughness. With submicron grained grades, impact strength and the fracture toughness decrease when compared to coarser grained grades of equal cobalt content; however, hardness increases.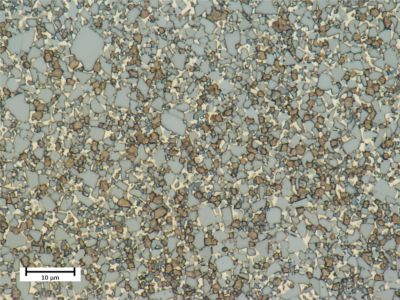 Example of Cemented Carbide with Medium-Coarse Grains