Notifications
Mark all as read
Modular Drilling with Solid Carbide Performance
The KenTIP™ FS modular drill covers more applications and provides better performance than any other modular system, delivering substantial cost savings and process simplifications on your shop floor.
Carbide where it matters – KenTIP™ FS inserts cover the entire front part of the drill. The coupling is completely protected from chip flow and contact with the workpiece.
Straight fluted drills for static drilling applications
Straight fluted drills for combined drilling and countersinking applications
Features & Benefits
This modular drilling system covers a 6–26mm diameter range.

Up to 12xD drilling depths.

Applicable in steel, stainless steel, and cast iron.
Large, ultra-high polished chip flutes guarantee hassle-free chip evacuation, enhancing tool life and performance.
Taper interface uniquely designed for highest rigidity clamping.
Retention lock prevents insert pullout.
Large bearing surface positioned for transmission of highest torsional loads without pocket deformation.
Large face contact surface.
Coolant delivery to the drill point and to the rake for guaranteed coolant devlivery where it is needed.
KenTIP FS Modular Drill Inserts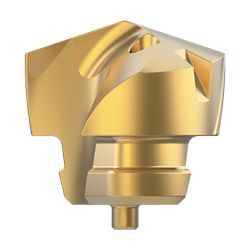 GTP Inserts
KenTIP FS GTP insert with the GOdrill™ point design.
GTP insert for universal applications
For steel, stainless steel and cast iron.
GOdrill geometry with 140° point angle.
Excellent centering capabilities and low axial forces.
Through coolant.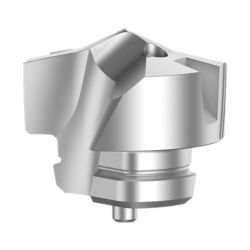 DAV Insert for Vibration Assisted Drilling of CFRP Stacks
For CFRP stacks with metal exit, non-ferrous materials, and high temperature alloys
Double angle geometry with 128º and 155º point angle to minimize exit burrs
Through coolant
Uncoated for cost-efficient drilling
Diamond coating for extended tool life optional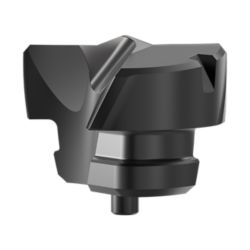 FEG Insert
FEG inserts with 180° point geometry for holes that require a flat bottom, performing two operations in one.
In conjunction with the other KenTIP™ FS inserts (HPG, HPC, HPL geometries), the FEG insert can be utilized as pilot drill point for deep-hole applications.
180° point geometry for holes that require a flat bottom.
Corner chamfer to reduce burr formation.
Four margin lands for hole straightness and stability on inclined exits.
HPG Inserts
HPG-point geometry for steels.
Great positioning and centering capabilities for drilling without precentering, even in deeper holes.
KCP15A™ is an AlTiN PVD monolayer coating.
Enhanced thermal stability.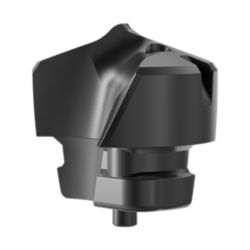 HPC Inserts
HPC-point geometry for all cast irons.
4-margin lands ensure hole straightness.
Large corner radius prevents chipping and reduces exit burs when drilling through holes.
KC7410™ is an AlCr PVD multilayer coating.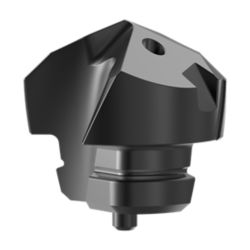 SPF Insert for CFRP
Double angle geometry with 128° and 90° point angle to avoid delamination
Through coolant
Diamond coating for best tool life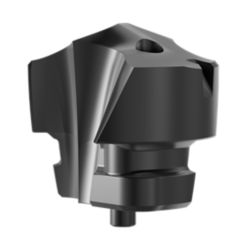 HPL Inserts
HPL-point geometry for stainless steels.
Forms 2 chips per cutting edge for an uninterrupted and smooth chip flow.
KCMS15™ is an AlTiN PVD monolayer coating.
Prevents edge build-up, which delivers superior hole quality.
Key Filters
Workpiece Material
P0

Low-Carbon Steels, Long Chipping

C < .25%; <125 HB; <530 N/mm^2 UTS

(

902

)

P1

Low-Carbon Steels, Short Chipping

C < .25%; <125 HB; <530 N/mm^2 UTS

(

902

)

P2

Medium and High Carbon Steels

C < .25%; <220 HB; <25 HRC; >530 N/mm^2 UTS

(

902

)

P3

Alloy Steels & Tool Steels

C > .25%; <330 HB; <35 HRC; 600-850 N/mm^2 UTS

(

902

)

P4

Alloy Steels & Tool Steels

C > .25%; 350-420 HB; 35-43 HRC; 850-1400 N/mm^2 UTS

(

902

)

P5

Ferritic, Martensitic, and PH Stainless Steels

<330 HB; <35 HRC; 600-900 N/mm^2 UTS

(

902

)

P6

High Strength Ferritic, Martensitic, and PH Stainless Steels

350-450 HB; 35-43 HRC; 900-2400 N/mm^2 UTS

(

902

)

M1

Austenitic Stainless Steel

130-200 HB; <600 N/mm^2 UTS

(

783

)

M2

High Strength Austenitic Stainless and Cast Stainless Steels

150-230 HB; <25 HRC; >600 N/mm^2 UTS

(

783

)

M3

Duplex Stainless Steel

135-275 HB; <30 HRC; 500-1200 N/mm^2 UTS

(

722

)

K1

Gray Cast Iron

120-290 HB; <32 HRC; 125-500 N/mm^2 UTS

(

1037

)

K2

Low and Medium Strength CGI and Ductile Irons

130-260 HB; <28 HRC; <600 N/mm^2 UTS

(

1037

)

K3

High Strength Ductile and Austempered Ductile Iron

180-350 HB; <43 HRC; >600 N/mm^2 UTS

(

1037

)

N

Non-Ferrous Materials

(

166

)

N2

Low-Silicon Aluminum Alloys and Magnesium Alloys

Si <12.2%

(

166

)

N3

High-Silicon Aluminum Alloys

Si >12.2%

(

166

)

N4

Copper, Brass, Zinc-based on machinability index range of 70-100

(

166

)

N5

Nylon, Plastics, Rubbers, Phenolics, Resins, Fiberglass

(

1

)

N6

Carbon, Graphite Composites, CFRP

(

1

)

S1

Iron-Based, Heat-Resistant Alloys

160-260 HB; 25-48 HRC; 500-1200 N/mm^2 UTS

(

594

)

S2

Cobalt-Based, Heat-Resistant Alloys

250-450 HB; 25-48 HRC; 1000-1450 N/mm^2 UTS

(

594

)

S3

Nickel-Based, Heat Resistant Alloys

160-450 HB; <48 HRC; 600-1700 N/mm^2 UTS

(

594

)

S4

Titanium and Titanium Alloys

300-400 HB; 33-43 HRC; 900-1600 N/mm^2 UTS

(

599

)

C2

CFRP / Aluminium CFRP / Non-Ferrous

(

165

)

C3

CFRP / Titanium CFRP / High Temp

(

165

)
Applications
Counterboring

(

40

)

Countersinking

(

40

)

Drilling

(

354

)

Stacked Plates Drilling

(

297

)
Cutting Diameter
Cutting Diameter Min
to
Cutting Diameter Max
Cutting Diameter