Material specific HPX edge preparation
A straight cutting edge reduces build-up and chipping on cutting edge and margin land. 
Material-specific HPX drill point
Patented HPX point provides excellent self-centering capabilities, reduces thrust, and enables precise center chip formation.
Material-specific HPX margins 
2 margin lands provide stability, reduce friction.
The HPX drill design
Up to 3 times higher cutting parameters, saving machining time and freeing up capacity.
Ultra-high polished chip flutes reduce friction, improve chip evacuation, and increase tool life.
A continuous chip-flute cross-section reduces vibrations and reduces cutting edge chipping.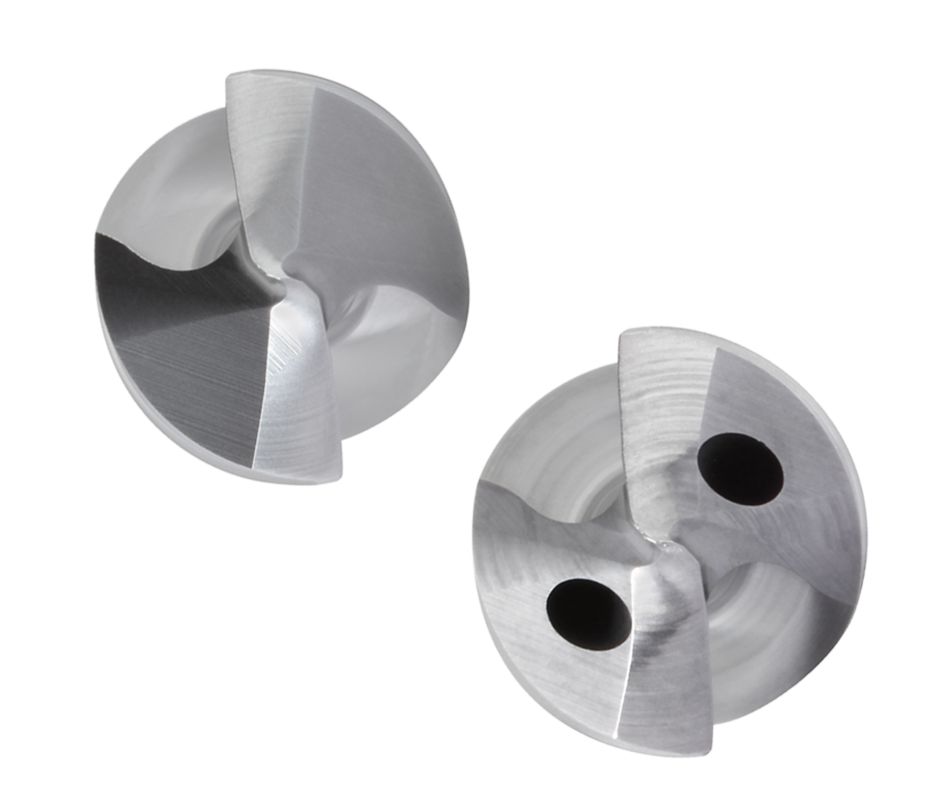 Standard MQL backend
Up to 8xD drilling
Corner Chamfer - Build-in cutting edge corner protection, reduces chipping and extends tool life.
140˚ point angle – For ideal cutting conditions.  Perfect for pilot drilling of deep holes.
2 margin lands for stability and less friction.
Straight cutting edge – Reduces build-up and chipping on cutting edge and margin land.
Lower forces, even better reliability
The HPX drill produces consistently higher tool life in steel than competitive tools, even when feeds and speeds are significantly increased.

Special gashing on the HPX drill improves the chip formation and curls a smaller chip. The material specific HPX point geometry creates significantly lower cutting forces, which works great for machines with lower spindle capabilities, unstable cutting conditions, or unstable workpiece clamping. A continuous cross section makes the HPX drill more resistant against tool breakage, and the ultrahigh polished chip flutes ensure superior chip evacuation.
Key Filters
Workpiece Material
P0

Low-Carbon Steels, Long Chipping

C < .25%; <125 HB; <530 N/mm^2 UTS

(

800

)

P1

Low-Carbon Steels, Short Chipping

C < .25%; <125 HB; <530 N/mm^2 UTS

(

800

)

P2

Medium and High Carbon Steels

C < .25%; <220 HB; <25 HRC; >530 N/mm^2 UTS

(

800

)

P3

Alloy Steels & Tool Steels

C > .25%; <330 HB; <35 HRC; 600-850 N/mm^2 UTS

(

800

)

P4

Alloy Steels & Tool Steels

C > .25%; 350-420 HB; 35-43 HRC; 850-1400 N/mm^2 UTS

(

800

)

P5

Ferritic, Martensitic, and PH Stainless Steels

<330 HB; <35 HRC; 600-900 N/mm^2 UTS

(

800

)

P6

High Strength Ferritic, Martensitic, and PH Stainless Steels

350-450 HB; 35-43 HRC; 900-2400 N/mm^2 UTS

(

800

)

K1

Gray Cast Iron

120-290 HB; <32 HRC; 125-500 N/mm^2 UTS

(

170

)

K2

Low and Medium Strength CGI and Ductile Irons

130-260 HB; <28 HRC; <600 N/mm^2 UTS

(

170

)

K3

High Strength Ductile and Austempered Ductile Iron

180-350 HB; <43 HRC; >600 N/mm^2 UTS

(

170

)
Applications
CornerStyle Chamfer Drilling

(

800

)

Drilling

(

800

)

Stacked Plates Drilling

(

800

)
Cutting Diameter
Cutting Diameter Min
to
Cutting Diameter Max
Cutting Diameter
Cutting Diameter Min
to
Cutting Diameter Max