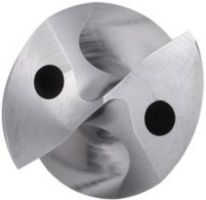 Specifically for Stainless Steel Applications
The all-new B21_SGL series solid carbide drills are designed specifically for stainless steel applications, offering high performance and long tool life in high-temperature alloys and regular steel, also.

By combining unique Kennametal features, such as the all-new SGL-point-geometry with patented gashing, a unique flute design, and a best-in-class coating into one tool, the B21*SGL drill is the ultimate high-volume production tool.
New SGL Point Design
Improved web thinning and patented gashing, which migrates in a straight cutting edge, enables high cutting parameters (feeds).
Creates controlled chips, which lead to a reliable performance.
Improved centering capabilities for better positioning accuracy and improved hole quality.
New KCMS15™ Beyond Grade
A monolayer PVD AlTiN-coated fi ne-grain carbide with superior surface finish.
First choice for stainless steel and high-temperature resistant materials for longer tool life.
The coating offers high hardness and excellent abrasive and adhesive wear resistance, as well as enhanced hightemperature properties, increasing its applicability, also, to MQL machining of steel.
Unique Flute Design
Large chip-flute cross-section and small web diameter improve the chip evacuation and the capability to drill deeper holes in difficult-to-machine materials.
The highly-polished surface ensures superior chip evacuation, even when low-pressure coolant is applied.
Customization
Intermediate diameters available as semi-standards.
Length variations and step drills available as custom solutions.
High step diameter ratios and very complex step drill geometries are not recommended for austenitic stainless steel.
Using Kennametal slim line hydraulic chucks is recommended if workpiece contours need to be bypassed.
High-Performance Solid Carbide Drills Tooling Solutions
Key Filters
Workpiece Material
P0

Low-Carbon Steels, Long Chipping

C < .25%; <125 HB; <530 N/mm^2 UTS

(

462

)

P1

Low-Carbon Steels, Short Chipping

C < .25%; <125 HB; <530 N/mm^2 UTS

(

462

)

P2

Medium and High Carbon Steels

C < .25%; <220 HB; <25 HRC; >530 N/mm^2 UTS

(

462

)

P3

Alloy Steels & Tool Steels

C > .25%; <330 HB; <35 HRC; 600-850 N/mm^2 UTS

(

462

)

P4

Alloy Steels & Tool Steels

C > .25%; 350-420 HB; 35-43 HRC; 850-1400 N/mm^2 UTS

(

462

)

P5

Ferritic, Martensitic, and PH Stainless Steels

<330 HB; <35 HRC; 600-900 N/mm^2 UTS

(

462

)

P6

High Strength Ferritic, Martensitic, and PH Stainless Steels

350-450 HB; 35-43 HRC; 900-2400 N/mm^2 UTS

(

462

)

M1

Austenitic Stainless Steel

130-200 HB; <600 N/mm^2 UTS

(

462

)

M2

High Strength Austenitic Stainless and Cast Stainless Steels

150-230 HB; <25 HRC; >600 N/mm^2 UTS

(

462

)

M3

Duplex Stainless Steel

135-275 HB; <30 HRC; 500-1200 N/mm^2 UTS

(

462

)

S1

Iron-Based, Heat-Resistant Alloys

160-260 HB; 25-48 HRC; 500-1200 N/mm^2 UTS

(

462

)

S2

Cobalt-Based, Heat-Resistant Alloys

250-450 HB; 25-48 HRC; 1000-1450 N/mm^2 UTS

(

462

)

S3

Nickel-Based, Heat Resistant Alloys

160-450 HB; <48 HRC; 600-1700 N/mm^2 UTS

(

462

)

S4

Titanium and Titanium Alloys

300-400 HB; 33-43 HRC; 900-1600 N/mm^2 UTS

(

462

)
Applications
Drilling

(

462

)

Stacked Plates Drilling

(

462

)
Cutting Diameter
Cutting Diameter Min
to
Cutting Diameter Max
Cutting Diameter
Cutting Diameter Min
to
Cutting Diameter Max