Versatile High-Performance Solid Carbide Drill
The Kenna Universal™ drill series covers a diameter range from 2,383–21mm (0.0938–0.8268") and provides 12xD drilling capability.

Applicable in many materials for cross hole drilling, inclined exit drilling, deep hole drilling and chamfer hole drilling. The Kenna Universal™ drill series offers long tool life, fewer tool changes, requires less tool inventory, making it an excellent alternative to other high-performance material-specific drills. The cone point design is ideal for piloting applications.
A four-margin land design provides hole straightness and roundness, even when drilling cross holes.
The low thrust drill point design has excellent centering capabilities, ideal for less stable machining conditions.
Easy to recondition, delivering extended tool life.
MQL-ready! All shanks fulfill the DIN 6535 and 69090-03 requirements for minimum quantity lubrication.

Enhanced Drilling Depth
12xD drilling in multiple materials without a pilot drill.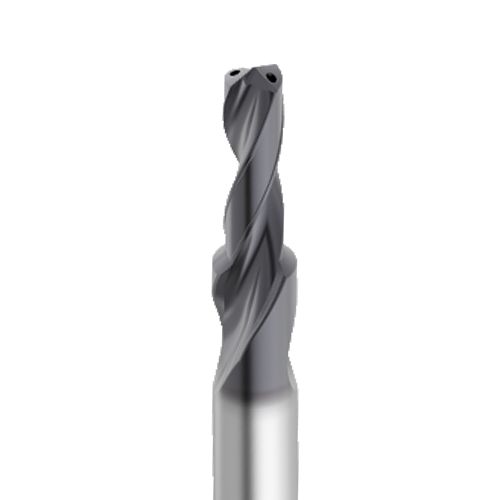 Step Drills
Combining two applications in one process step, reducing machining time and cost.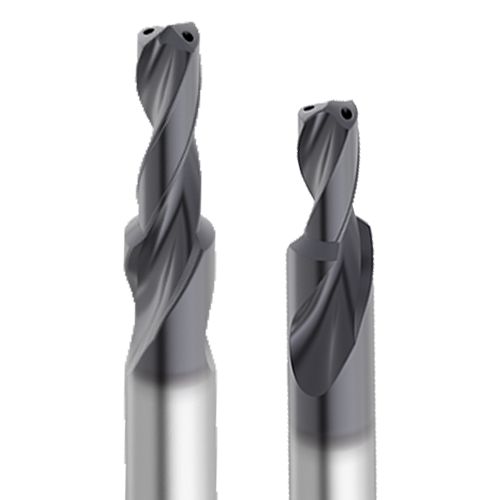 Step Drill Length Versions
Short and long version, with internal coolant.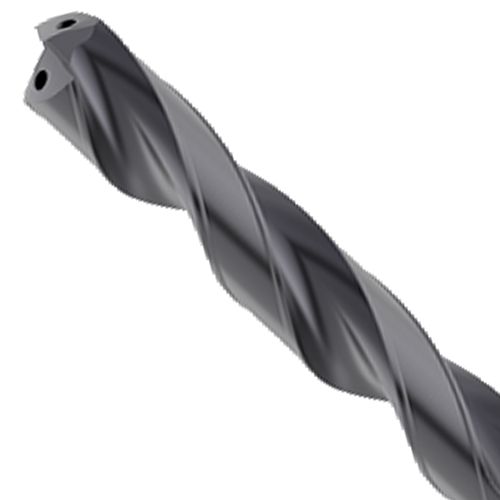 Grade Enhancement  
Grade KCU15 for excellent wear resistance and excellent coating adhesion even in tough cutting conditions.

Key Filters
Workpiece Material
P0

Low-Carbon Steels, Long Chipping

C < .25%; <125 HB; <530 N/mm^2 UTS

(

1041

)

P1

Low-Carbon Steels, Short Chipping

C < .25%; <125 HB; <530 N/mm^2 UTS

(

1041

)

P2

Medium and High Carbon Steels

C < .25%; <220 HB; <25 HRC; >530 N/mm^2 UTS

(

1041

)

P3

Alloy Steels & Tool Steels

C > .25%; <330 HB; <35 HRC; 600-850 N/mm^2 UTS

(

1041

)

P4

Alloy Steels & Tool Steels

C > .25%; 350-420 HB; 35-43 HRC; 850-1400 N/mm^2 UTS

(

1041

)

P5

Ferritic, Martensitic, and PH Stainless Steels

<330 HB; <35 HRC; 600-900 N/mm^2 UTS

(

1041

)

P6

High Strength Ferritic, Martensitic, and PH Stainless Steels

350-450 HB; 35-43 HRC; 900-2400 N/mm^2 UTS

(

1041

)

M1

Austenitic Stainless Steel

130-200 HB; <600 N/mm^2 UTS

(

1041

)

M2

High Strength Austenitic Stainless and Cast Stainless Steels

150-230 HB; <25 HRC; >600 N/mm^2 UTS

(

1041

)

M3

Duplex Stainless Steel

135-275 HB; <30 HRC; 500-1200 N/mm^2 UTS

(

1041

)

K1

Gray Cast Iron

120-290 HB; <32 HRC; 125-500 N/mm^2 UTS

(

1041

)

K2

Low and Medium Strength CGI and Ductile Irons

130-260 HB; <28 HRC; <600 N/mm^2 UTS

(

1041

)

K3

High Strength Ductile and Austempered Ductile Iron

180-350 HB; <43 HRC; >600 N/mm^2 UTS

(

1041

)

N

Non-Ferrous Materials

(

1041

)

N2

Low-Silicon Aluminum Alloys and Magnesium Alloys

Si <12.2%

(

1041

)

N3

High-Silicon Aluminum Alloys

Si >12.2%

(

1041

)

N4

Copper, Brass, Zinc-based on machinability index range of 70-100

(

1041

)

S

High-Temp Alloys

(

1041

)

S1

Iron-Based, Heat-Resistant Alloys

160-260 HB; 25-48 HRC; 500-1200 N/mm^2 UTS

(

1041

)

S2

Cobalt-Based, Heat-Resistant Alloys

250-450 HB; 25-48 HRC; 1000-1450 N/mm^2 UTS

(

1041

)

S3

Nickel-Based, Heat Resistant Alloys

160-450 HB; <48 HRC; 600-1700 N/mm^2 UTS

(

1041

)

S4

Titanium and Titanium Alloys

300-400 HB; 33-43 HRC; 900-1600 N/mm^2 UTS

(

1041

)
Applications
Cross Hole Drilling

(

1041

)

Drilling

(

1041

)

Inclined Exit Drilling

(

1041

)

Stacked Plates Drilling

(

1041

)
Cutting Diameter
Cutting Diameter Min
to
Cutting Diameter Max
Cutting Diameter