Notifications
Mark all as read
Buying Guide: Selecting Carbide Inserts for Metalworking
Kennametal Indexable Milling, Drilling, & Turning


by Kennametal Metal Cutting Pros

When it comes to cutting tool selection, machinists have three basic choices: brazed carbide tool bits, indexable tooling with carbide inserts, and solid tools made of carbide or high-speed steel (HSS). This article will explain why the middle choice—indexable turning, milling, and drilling tools—is often the best choice for productive, cost-effective machining.
Beyond Brazed Bits
For as long as there's been tungsten carbide (which is roughly nine decades), machinists have been brazing small hunks of it to steel shanks and then grinding a sharp edge on the result. These brazed carbide tool bits and boring bars are easy to make, customizable to the application, and inexpensive. Unfortunately, their effectiveness depends on the machinist's brazing and grinding skills. And since the tool must be removed from the mill or lathe for sharpening, they also lead to significant and costly machine downtime.
Not So Speedy
HSS tool bits present a similar story. They've been around even longer than brazed carbide. They're much less expensive than carbide and there's no need for brazing—just sharpen the tip however you want and get cutting. Sadly, you won't be cutting very long or very quickly because HSS boasts a cutting speed of just one-fourth that of tungsten carbide, and even less compared to some of the newer, coated grades. HSS might be fine for hobbyists with loads of time on their hands, but carbide is the first choice for professional machine shops.
That statement extends to HSS rotary tool bits such as end mills, drills, and reamers, all of which are used daily throughout the manufacturing industry. That's a shame. Yes, these tools are less expensive than their solid carbide alternatives, but as mentioned, they're also far less wear-resistant, predictable, and productive. These factors explain why leading cutting tool manufacturers emphasize the importance of carbide tooling to their customers and why many have stopped offering HSS cutting tools altogether.
Carbide Inserts & Metalworking
That leads us to indexable carbide inserts, the workhorses of the machining industry. As with old-fashioned brazed tools, indexables also utilize small bits of carbide. The difference is how they're attached. Rather than a permanent braze, indexable tooling relies on a screw or clamp to secure the carbide insert to the tool body. When the edge becomes worn, swapping it out only takes seconds. More importantly, there's no loss of position or need to "touch off" the tool. Just remove the old insert, stick in a fresh one, and get to work.
Kennametal's KCS10B turning grade provides easy wear identification. It's ideal for medium machining and finishing operations of nickel-based (S3), cobalt-based (S2), and iron-based (S1) high-temperature alloys.  The extremely hard, wear-resistant carbide substrate allows for longer tool life, while the ultra-fine-grain carbide substrate and smoother coating reduces friction.
What are Carbide Inserts Used For?
Where machinists and toolmakers once had to grind special shapes into their brazed or solid carbide tools, they now have the option of buying off-the-shelf indexable inserts in a huge variety of geometries and styles. Need to cut a 1/16" wide groove in a shaft? How about an Acme thread, or a 45-degree chamfer around a part periphery? These and other insert shapes are readily available, no grinding necessary.
Indexable cutting tools are especially important on CNC machinery, where the need to keep spindles turning at all times is critical. Here, machinists rely on indexable drills—often with coolant running through them—to make holes quickly, followed by indexable boring bars to finish machine them. Indexable face mills true up large flat surfaces; indexable end mills rough out pockets and cut slots; indexable profiling tools trace complex part shapes. There's very little that can't be machined with indexable cutting tools.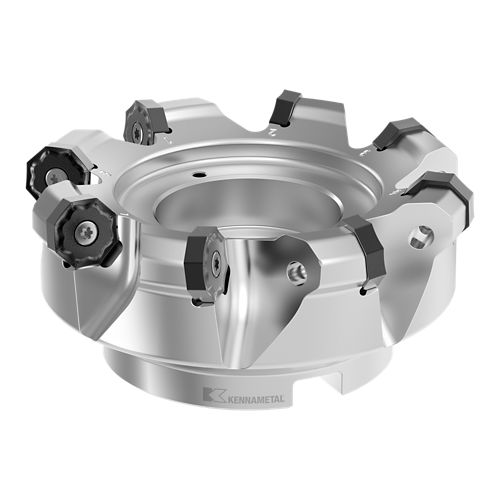 The Mill 16™ series is a perfect fit for most cast iron face milling requirements with high feed rates to boost productivity and reduce cycle time.
How to Choose a Carbide Insert
But how do you know what carbide inserts and cutter bodies to buy? And why are there so many different grades of carbide inserts out there? Good questions; we'll start with the second one first. Unlike a few decades ago, when machinists had just a few grades to choose from, there are now dozens of inserts grades, coatings, and chip-breakers available.
Many of these are tailor-made for specific materials or material groups. For instance, a shop making aerospace components can greatly increase efficiency by purchasing carbide inserts designed for tough, heat-resistant superalloys (HRSA) such as Inconel and Hastelloy. The same is true for medical shops, which tend to cut corrosion-resistant, biocompatible materials like 316 stainless steel, cobalt chrome alloy, and titanium. Automakers can dial in their processes by using inserts optimized for cast iron and low carbon steel, while oil and gas producers benefit from tooling that excels in duplex steel.
The Case for General Purpose
Simply put, if there's an alloy out there, the chances are excellent that a material-specific carbide grade is available to cut it. However, some shops machine aluminum one day, iron the next, and titanium the day after that, often in low quantities. Does this mean they need to bloat their tool crib with dozens upon dozens of different carbide insert grades and geometries, many of which will only be used occasionally?
Probably not. Just as there's no shortage of indexable carbide tooling optimized for certain materials, there's also no shortage of excellent general-purpose cutting tools. These represent a middle ground between performance and the tool crib bloat just mentioned. That said, the decision to go the material-specific route is a delicate balancing act—if a job's going to be in the machine for more than a few days or is sure to come around again in a month or two, it almost always makes sense to buy carbide inserts designed for that material.
Selecting the Right Carbide Insert
Last but not least is the whole topic of insert nomenclature. It's a deep subject, one filled with exceptions and cutting tool-specific rules. Regardless, most manufacturers follow the ANSI or ISO tool identification system (and sometimes both). We won't get into the details here except to say that it uses an alphanumeric code to specifies an insert's shape (round, square, triangular, etc.), clearance angle (neutral to positive), tolerance (some inserts are pressed to size, while others are ground), the size of the locating hole (if any) and clamping method, its size and thickness, corner radii, and various other defining features (see the chart above for an example).
Complex naming systems aside, however, choosing the right insert for your machining application isn't as difficult as it might appear. That's because cutting tool manufacturers have developed online tool advisors that walk machinists and programmers through the tool selection process. For example, Kennametal's NOVO prompts users to answer questions about the metal removal process (milling, turning, or holemaking), the machine tool that will be used, workpiece material and removal amount, and expected depths of cut. It then generates a machining strategy along with insert and toolholder suggestions, ordering information, product availability, feed and speed recommendations, and more.
Long story short, carbide insert selection is much easier than it once was, even though the number of cutting tool options has grown exponentially since the days of brazed carbide and HSS tool bits. Download a catalog, log in to NOVO, or give your local cutting tool representative a call. You'll be making chips in no time.