Unrivaled Performance for Over 30 Years
Focusing tubes, tubes, waterjet nozzles... However you describe them, ROCTEC Abrasive Waterjet nozzles have been the industry leader since the early days of waterjet cutting.

ROCTEC™ Composite Carbide for Abrasive Waterjet (AWJ) Applications
ROCTEC™ abrasive waterjet (AWJ) nozzles are made from our proprietary process combining advanced materials without the need for a soft metal binder, as with traditional sintering technology using tungsten carbide/cobalt.

Together, our unique material and process technologies minimize nozzle wear, which allows longer cutting periods while maintaining precision performance. This same advantage in technologies ensures consistency in each nozzle, eliminating the need to reprogram a job when replacing a nozzle.
The ROC Process
ROCTEC® Verbundhartmetall ist ein auf Wolframkarbid basierender Werkstoff, der mithilfe des patentierten ROC Prozesses (Rapid Omni directional Compaction) gefertigt wird, den nur Kennametal für diese Produkte nutzen darf.

This process enables these advanced ceramic materials to be combined without using a soft metal binder and with very short consolidation cycles - minimizing the natural tendency of ceramic particles to enlarge when exposed to high heat for long periods.
Maintaining extra-fine grain size means better nozzle performance resulting in an extremely durable material that fiercely resists abrasive and erosive wear.
Superior Wear Resistance & Greater Accuracy
Durch die herausragende Verschleißfestigkeit müssen im Lauf der Zeit weniger Düsen angeschafft werden. Die verlängerte Standzeit führt auch zu einem optimalen Strömungsmuster und einer schnelleren Geschwindigkeit. Dadurch sind höhere durchschnittliche Schnittgeschwindigkeiten möglich und die für das Austauschen der Düsen und die Kalibrierung des Systems erforderlichen Systemnebenzeiten werden erheblich reduziert.

Dies bedeutet des Weiteren eine verbesserteMaßgenauigkeit und die Möglichkeit, längere ununterbrochene Schnittedurchzuführen. Diese Leistungsverbesserungen sorgen zusammengenommen für einen kostengünstigeren Gesamtschneidvorgang.
Click on graphs to the right to zoom in >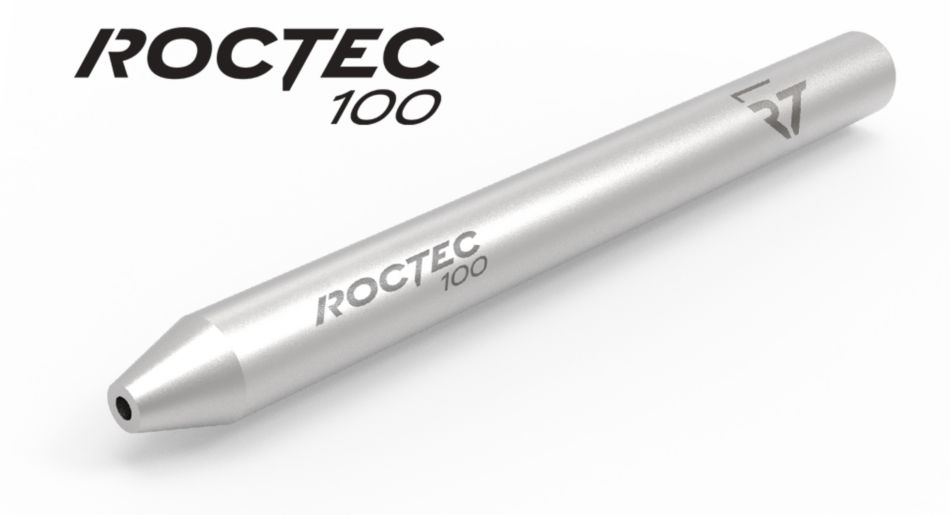 ROCTEC™ 100
Fit-for-use performance
Industry workhorse used in general applications
Ideal for:

Rough Cutting
Moderate to High Pressure Cutting
Non-Metallic Materials
Pure Waterjet