Notifications
Mark all as read
Buying Guide: How to Choose the Right Carbide Drill Bit


by Kennametal Metal Cutting Pros
For as long as humans have been manufacturing things (which is a very long time), they've needed to make holes in them. Since around the time of the First Industrial Revolution, that task has been accomplished with drill bits, pencil-shaped hunks of very hard metal that, when rotated, create a round and hopefully accurate hole in the intended workpiece. This brief tutorial will explain why tungsten carbide (WC) is generally considered the first choice for this most important of all cutting tools, the drill bit. 
Drill Bit Materials
Machine shops and metal fabricators have long turned to high-speed steel (HSS) and cobalt steel drill bits for their holemaking needs. In fact, the first HSS tools were developed more than a century ago, with cobalt coming along not after. These all-purpose cutting tools are tough, easy to use, and inexpensive, making them a favorite of maintenance and repair facilities, job shops, and manufacturers faced with a wide variety of workpiece materials.
Despite this impressive history, there's just one problem with HSS drill bits: they're slow. Compared to its more modern counterpart—tungsten carbide—HSS operates at roughly one-fourth the cutting speed and far lower penetration rates besides. Granted, some shops have limited holemaking needs, or only drill soft materials like plastic and wood; unless they're looking for greater accuracy or extended tool life, HSS is perfectly fine. But for shops interested in maximizing productivity on their CNC lathes and machining centers, solid carbide, indexable, and modular drill bits are the clear choice.
Drill Bit Sizes
Ironically, it's the size of the hole that often determines which of these three styles of drill bit to use. That's because, for all its many benefits, carbide is a fairly costly material. Cutting tool manufacturers have therefore found that carbide drills larger than 3/4" or so in diameter are prohibitively expensive for most shops. To get around this constraint, some toolmakers offer steel-shank drill bits with brazed carbide tips, or more frequently, so-called "indexable" drill bits.  
As their name describes, indexable drills boast precision-ground carbide inserts that can be indexed to two or more positions. This provides the wear resistance and higher productivity of carbide drilling, but at a more economical price point. However, the relative softness of the steel body surrounding the carbide inserts can eventually create problems like "chip wash" and pocket deformation, leading to premature insert failure.  
The solution for some cutting tool manufacturers has been to develop modular carbide drills. These present a "full solid front" to the workpiece, eliminating any chance of washed-out pockets or insert movement. And although they're slightly more expensive than their indexable counterparts, these modular tools do an excellent job of straddling the fence between solid carbide and lower cost, less productive alternatives.
KSEM PLUS™ offers a series of carbide inserts to deliver excellent productivity in all cutting conditions and many materials.
Types of Drill Bits
That leads us to the question: what are the best solid carbide drill bits for metal? As with so much else in the machining world, the answer depends on the type of metal that you're drilling. The geometries and coatings required for efficient holemaking in aluminum are far different than those needed for stainless steels, cast irons, and heat-resistant superalloys (HRSA). And even within these and other material groups, there can be significant differences in drill selection.
To illustrate, consider the stainless steel family, which is broken down into four classes—austenitic, ferritic, martensitic, and duplex—based on grain structure and chemical composition. The first of these (which itself contains a dozen or so distinct alloys) is high in nickel and chromium, making it extremely tough, corrosion-resistant, and a real bear to drill, solid carbide or no.
In this instance, a drill designed for long-chipping materials is needed, with a thinned web and a point gash that will pull chips up and out of the hole. Pay attention to the drill's surface treatment as well—an AlTiN (aluminum titanium nitride) coated tool will stand up to the high amounts of heat generated when drilling 300-series austenitic stainless steels.
By contrast, martensitic 400-series stainless contains less chromium, very little nickel, and higher amounts of carbon. It's therefore much easier to machine, generating short chips and less heat than other stainless steels. Here, a multi-purpose or universal drill will perform quite well—that is, unless the metal is hardened, in which case a solid carbide drill optimized for that application should be used. Similar advice can be given about drilling in cast irons, alloy steels, aluminums, and superalloys.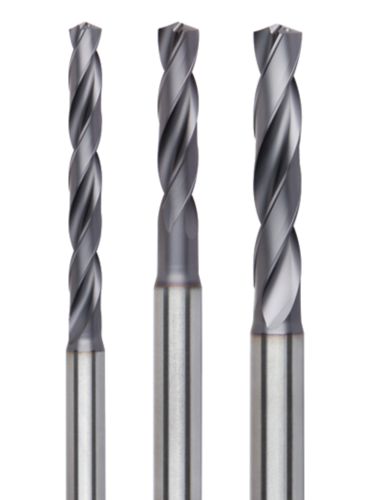 The universal application profile of Kenna Universal™ drills reduces tool change times and the number of drills in inventory.
Best Carbide Drill Bits for Metal
This last point is important to remember. For shops that machine lower production quantities and a wide variety of metals, the right drill is often a universal one as just mentioned. These boast geometries and coatings that perform well in multiple material groups, and as with most solid carbide drills, have coolant through the tool, a productivity-boosting feature no matter what you're drilling.
For higher part volumes, however, a material-specific carbide drill is usually the most effective option. Yes, this means a slightly higher price tag and larger tool inventories, but shops willing to make these small investments are easily reimbursed with better part quality, more predictable machining processes, longer tool life, and lower cost per part. And for any machine shop pursuing a lights-out machining strategy, carbide drills optimized for a specific material or application are a must. 
As we've seen, there's no simple answer to the "what's the best carbide drill bit" question. The solution, therefore, is to consult with a knowledgeable cutting tool supplier. Kick some tires, set aside adequate time for testing, and be sure to document the results. You'll soon be on the path to more productive and profitable holemaking.

The material-specific features of the HPX drill produces consistently higher tool life in steel than competitive tools, even when feeds and speeds are significantly increased.