Notifications
Mark all as read
Printing the Future of E-Vehicle Manufacturing... Today

Advancing E-Vehicle Manufacturing
As automotive manufacturers expand their hybrid and electric vehicle offerings, Kennametal is leveraging the design flexibility of additive manufacturing to meet growing customer demand for lighter weight tooling solutions for machining e-vehicle components. Our innovative 3D-printed stator bore tool—combined with a carbon-fiber-body and our proven RIQ inserts technology—delivers unmatched productivity and reliability in the production of large diameter, deep bore electric motor housings.
Animation of the stator bore machining process
Why did Kennametal develop this novel tooling solution?
Kennametal's mission is all about performance for our customers, and we are responding to their needs with this tool. As automotive manufacturers globally make the transition to hybrid and electric vehicles, they require new tooling solutions to meet the unique challenges of machining e-vehicle components, such as the electric motor housings for which this tool was designed. In addition to short machining times and process-reliable chip removal, easy handling (through error-free cutting edge setting) is a typical requirement. In addition, the tools must be light in order to be suitable for tool changing systems. Our stator bore tool weighs approximately half that of a conventionally manufactured version, enabling auto manufacturers to utilize it on their existing high-speed machining centers as they change over lines for electric vehicle manufacturing. Our tool efficiently addresses the challenges of boring deep holes in conjunction with multiple large diameters when machining electric motor housings. 
How does the stator bore tool improve productivity and efficiency for customers?
Machining three diameters in one operation, the stator bore tool ensures the alignment and concentricity of the machined surfaces whilst reducing the cycle time significantly. The lightweight 3D printed combination tool enables a faster tool change and spin-up even on less powerful machines. The surface specifications and component tolerances are achieved without constraints. Hassle-free chip removal is ensured by means of airfoil shaped arms that are through coolant featured to ensure precise and powerful coolant supply to the cutting edges and guide pads. Additionally, the Kennametal RIQ pocket seat enables an easy adjustment of machining diameter and a trouble-free setup of new cutting inserts. While the stator bore tool provides an increased level of process reliability, it also saves the costumer valuable setup and machining times.
Function test of the coolant supply
Why did you use 3D printing and carbon fiber reinforced polymers?
With 3D printing we can put material only where we need it – without requiring a cubic or round base body, so we can make complex tools that are lighter and better performing in the process. By leveraging finite element simulations and the design flexibility of 3D printing, we reduced the weight of the stator bore tool by approximately 50% compared to conventional solutions, while achieving the highest requirements for accuracy, roundness, and surface quality. 3D printing enabled us to realize complex geometries that improve the performance of the tool and would be difficult or impossible to economically produce with traditional manufacturing. These include the tool's unique cooling channels and the airfoil-shaped connections between the tool body and cutting edge, which help improve chip evacuation, prevent chip buildup, and protect workpiece surfaces.
What other unique selling points does the tool have?
The stator bore tool is a hybrid solution that leverages Kennametal's expertise in additive and traditional manufacturing. It is designed to be used in combination with our proven RIQ inserts, which deliver unmatched machining precision in many customer applications. The tool is available with all common interfaces. For particularly high requirements in terms of rigidity, speed and precision, the KM4X interface developed by Kennametal is the recommended choice.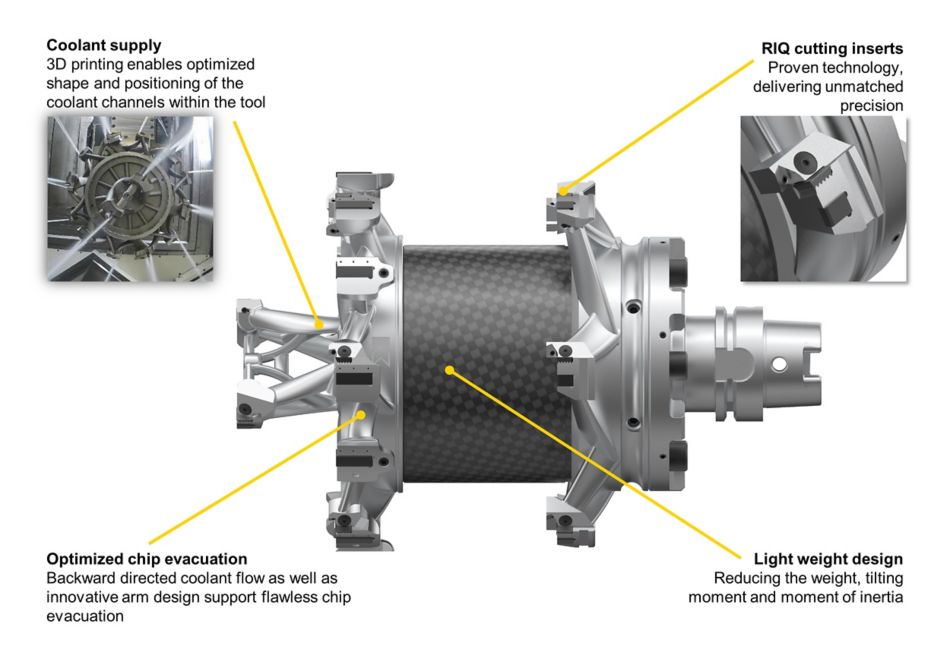 The stator bore tool and its features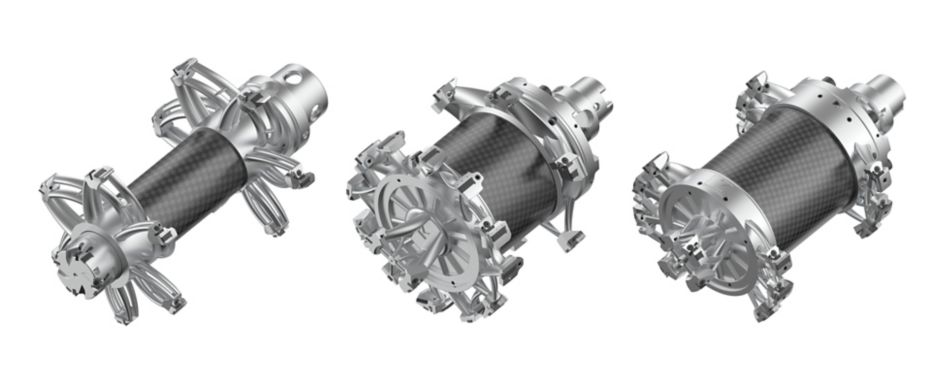 Development stages and design variants of the innovation