Notifications
Mark all as read
Buying Guide: Unraveling the Why and How of Flat Bottom Drilling


by Kennametal Metal Cutting Pros

Given the huge number and variety of workpieces that need holes drilled in them each day, it's a good thing there are so many shapes, sizes, and geometries of drill bits to make them. Most of these drills, however, have either a 118-degree or 130-degree included angle. The first is often labeled as a general-purpose drill and is the most common, while the latter is intended for harder or tougher metals such as stainless steel and heat-resistant superalloys. Unfortunately, neither of these drill styles solves an all too common machining challenge—the need for flat bottom holes. 
Why are Flat Bottom Drills Needed?
Perhaps the most common example of a flat bottom hole is one that's counterbored, which allows a socket head cap screw to sit flush with the upper surface of whatever component it's bolted to. Creating this shape requires a cutting tool with a 180-degree point. It could be a specialty tool with an obvious name—a counterbore—but in many shops, the most expedient solution is to modify an appropriately-sized drill bit and use it to cut the feature (more on this shortly). That, or interpolate the counterbore with an end mill, assuming a CNC machining center is available.  
Why Not an End Mill?
Numerous other applications for flat-bottomed drills exist, though, many of which can't be machined with an end mill. Why not, you ask? After all, end mills have a similar shape, so they should be able to cut the same forms as flat bottom drills, right? The answer is a definitive "not really." That's because end mills are designed to cut radially—from side to side, in other words—not axially like a drill. Yes, center-cutting end mills are fairly effective at plunging, but at nowhere near the rate of a drill bit. An end mill's thicker web and slower spiral hinder chip evacuation during holemaking operations while also raising cutting forces significantly. Nor is an end mill's end perfectly flat, but rather slightly concave, and leaves a raised dimple in the bottom of any hole that must then be removed with a drill or boring tool. Finally, end mills are not available in the long lengths common to drill bits, limiting their holemaking capabilities. 
The flat bottom drill point design of the FBX Drill eliminates radial forces, making it ideal for applications on machines with lower horsepower and pre-machining high-temperature alloy airframe structural parts.
A Few Flat-Bottom Holemaking Applications
So what are those other applications? Counterboring is one, but so is the drilling of blind, flat-bottom holes. These are often used to house electronic components such as sensors, or to position a pin or shaft in an assembly. Using a flat bottom drill to punch holes in thin workpieces or stacks of thin plates (a common practice in the heat exchanger industry) tends to reduce the inevitable burr on the part's exit side. A similar argument can be made for holemaking in tubes and pipes as well as drilling into angled surfaces, or breaking through into intersecting holes during hydraulic manifold production. 
Check out KenTIP™ FS in action. The FEG insert, In conjunction with the other KenTIP FS inserts (HPG, HPC, HPL geometries), can be utilized as a pilot drill point for deep-hole applications.
Preparing a Drill Bit to Make Flat Bottom Holes
So what's the best way to go about making such a drill? There are some excellent off-the-shelf options available that we'll discuss shortly, but for a quick, get-the-job-done alternative, you can start by cutting the end off with a high-speed steel (HSS) or cobalt drill bit. An abrasive chop saw is the best bet in this case, although a narrow grinding wheel will also do the trick. Try not to get it too hot, and certainly don't quench the drill at any time, as this will damage its metallurgical properties. When done, hold the drill perpendicular to the bench grinder's long axis (parallel to the wheel's sides), then use the side of the wheel to flatten each flute face, thinning the web almost to its centerline. It's then a simple matter to grind the appropriate relief angle on each flute, no different than if you were hand-sharpening a drill bit. And if you're fortunate enough to have an actual drill sharpener in your shop, by all means use it.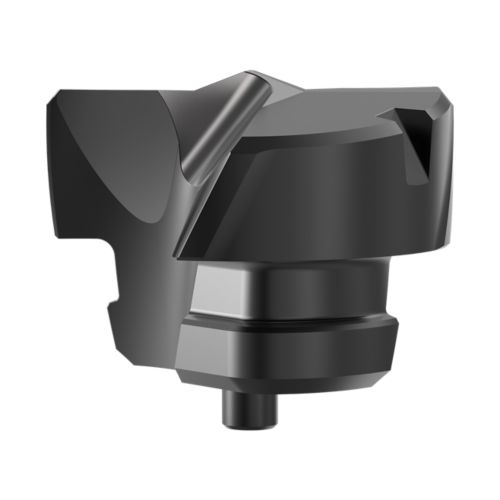 Kennametal's KenTIP FS FEG modular flat bottom drill boasts four margin lands for enhanced stability, a conical center point for improved centering, and corner chamfer to reduce burrs on break out and to improve tool life.
Flat Bottom Drilling Best Practices
Flat bottom drill in hand, here are some guidelines to achieving the best hole quality possible. Using the HSS steel drill just described, most of the metal removal will be done with one of the 118-degree or 130-degree tools mentioned at the outset—just drill to the desired depth, then follow up with the flat bottom tool to clean out the point. For holes much deeper than 5x the diameter, start with a spot drill or create a pilot hole roughly one diameter deep, as this will keep the drill from wandering. For angled surfaces, it's a good idea to first mill a flat with an end mill, then spot drill and drill as normal. Also, reduce feedrates slightly when exiting an angled hole or when drilling into intersecting holes. As with any HSS or cobalt drill, pecking will be necessary to clear the chip and introduce cutting fluid into the hole. As always, a high-quality collet chuck, hydraulic, or mechanical toolholder will provide the best results.  
Learn more about the FBX Drill's advanced drill body design for flat bottom drilling, maximum metal removal rates, and decreased cycle times when machining aerospace structural components.
Commercial Flat Bottom Solutions
Of course, it's best to eliminate some or even all of this hand-grinding, pecking, and multiple tools. With a solid carbide drill like Kennametal's HP-series or GOdrill, it's possible to skip the spot drill and pilot and get busy drilling. Because these high-performance drills have through-the-tool coolant, there's no pecking necessary, and because they're carbide, cutting speeds are easily 5-6 times that of HSS. When using one of these tools, you might still choose to clean out the drill point with your homemade tool, or use one of Kennametal's FBG flat bottom drills (also carbide). If it's a shallow hole, FBGs can drill the entire hole up to 3xD, just be sure to reduce the feedrate slightly when starting out. 
Getting Modular with Flat Bottom Drilling
The best solution of all is a modular flat bottom drill, something that wasn't around when machinists began grinding their own tools. They are now, however, and one of the best examples of this is Kennametal's KTFS-series drill with FEG geometry. In holes up to 12xD, there's no need for a pilot hole, nor is one needed on angled surfaces up to 5xD. Countersinks, intersecting holes, angled breakouts, stacked plates—all are easily produced with an FEG-style modular flat bottom drill, and all will benefit from superior hole straightness, improved tool life, and greater productivity. 
Kennametal isn't the only flat bottom drill supplier around, but we're pretty sure we're the best. So while you now know how to grind a flat bottom drill and are armed with some sound application tips, we encourage you to give these more modern solutions a try, no matter whose logo is on the box. It's time to flatten the drilling curve. 
Some Common Uses for a Flat Bottom Drill