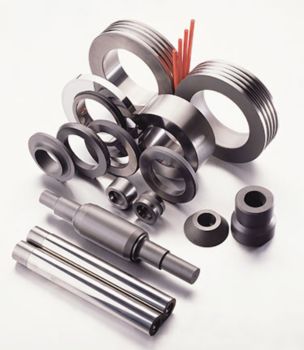 Mill Rolls
Kennametal manufactures mill rolls from cemented tungsten carbide grades tailored for the demanding environment of hot rolling mills that produce wire rod and seamless tube.
We deliver mill rolls as unfinished blanks, semi-finished rolls with ground inner diameter and thickness, or rolls fully finished to your drawing. These mill rolls are manufactured in dimensions of up to Ø630mm outside diameter and a maximum thickness of 400mm.
Composite Rolls With Easy-To-Use Clamping System
Kennametal composite mill roll assemblies are designed for use in the high torque, low speed (<10m/sec), intermediate stands of wire rod mills where traditional cast iron or PM steel rolls are used. These roll assemblies are supplied in two axial clamping systems —  a traditional hydraulic clamp, and our new mechanical clamp that's easy to install and maintain. Our mechanical clamp provides clamping forces equivalent to hydraulically clamped assemblies, but without the need for specialized tools or fluid.
Kennametal Tungsten Carbide Grades for Hot Rolling Applications
케나메탈 KC7512 재종

Tungsten Carbide %

Binder Composition

Binder %

Density g/cm³

경도(HB)

Grain Size
MN0
94.0
Cobalt
6.0
14.90
1350
Coarse
MN04
90.5
9.5
14.50
1230
Coarse
MN05
86.5
13.5
14.15
1100
Coarse
MN1
86.5
13.5
14.15
970
Extra Coarse
MN2
85.0
15.0
14.05
950
Extra Coarse
MN3
83.0
17.0
13.85
890
Extra Coarse
MN4
80.0
20.0
13.55
830
Extra Coarse
MN5
75.0
25.0
13.10
730
Extra Coarse
MN6
70.0
30.0
12.75
670
Extra Coarse
 
 
 
 
 
 
 
BN45
88.0
Co-Ni-Cr
12.0
14.25
1075
Coarse
RCV3
85.0
15.0
14.00
1090
Coarse
BN55
85.0
15.0
14.00
950
Coarse
RCV4
80.0
20.0
13.50
930
Coarse
BN65
80.0
20.0
13.5
870
Coarse
RCV5
75.0
25.0
13.05
800
Coarse
RCV6
70.0
30.0
12.70
670
Coarse