Machinist's Guide: Why Bi-Metal Holesaws Aren't Always the Best Option for Drilling Holes
How to Choose the Right Holemaking Tool


by Kennametal Metal Cutting Pros

Most machined and fabricated parts have at least one hole in them, and sometimes, many holes. Heat exchangers and manifolds, for example, often contain more holes than they do metal. Machinists have many options for producing these holes, but selecting the wrong one can lead to lost production time, damaged or scrapped parts, and waste. It's important, therefore, to become knowledgeable about this most basic of machining processes and understand which tool to use for a given application, how to apply it, and why it's effective.
Holemaking Considerations
Much of this decision comes down to the material. For instance, a bi-metal hole saw is one of the more common tools for woodworkers, hobbyists, or a homeowner tasked with repairs around the house. As a rule, these are limited to soft materials like plywood and plaster, although as you will see, a good one is quite effective in cutting many steels and aluminum.
Hole size is another important consideration. The bi-metal hole saws just mentioned can produce holes many inches in diameter or ones as small as your thumb. At the other end of the holemaking spectrum are so-called circuit board drills, micro-sized tools common in the electronics industry and for plastic machining. Between these two lies a host of holemaking tools, most of which are suitable for CNC machining, sheet metal fabrication, ironworking and heavy construction, and more. 
When to Use a Twist Drill
Perhaps the most widely used of these is the twist drill, named for its corkscrew-like twisted flutes. Many styles are available, including the most common of them, the jobber drill, followed by screw machine, taper length, aircraft drills, and many others. Diameters range from 1/32" or so up to 2" and larger—beyond this, more cost-effective options like hole saws, spade drills, and Forstner bits—a special type of woodworking tool—might be used. 
Most are made of high-speed steel (HSS), although cobalt steel or even carbide-tipped drills are preferred on very tough or hardened metals. Whatever the style, twist drills are relatively inexpensive, making them a favorite of machine shops and hobbyists alike, even though a more productive and cost-effective alternative exists.
Carbide Drills are a Machinist's Beset Friend
That alternative is solid carbide. For holes 3/4" in diameter and smaller, it is the clear choice for CNC machining and turning operations, especially where production quantities warrant the admittedly higher price tag. As with HSS drill bits, a range of geometries, coatings, and lengths are available, some designed for specific materials. For instance, Kennametal offers its HPR series drills for cast iron, the HPX series for steel, and the HPS for aluminum, each optimized for maximum productivity in these metals. Other manufacturers offer similar drills. 
Another benefit to solid carbide drills is coolant through the tool. As its name describes, this feature allows cutting fluid to flow through the inside of the drill directly to the drill point. Not only does this cool and lubricate the work area, but it also serves to flush chips out of the hole, further increasing holemaking efficiency. Most modern CNC lathes and machining centers have this ability, and some even force the coolant through at very high pressures for greater efficiency and increased tool life. Learn more about cutting fluid for drilling operations.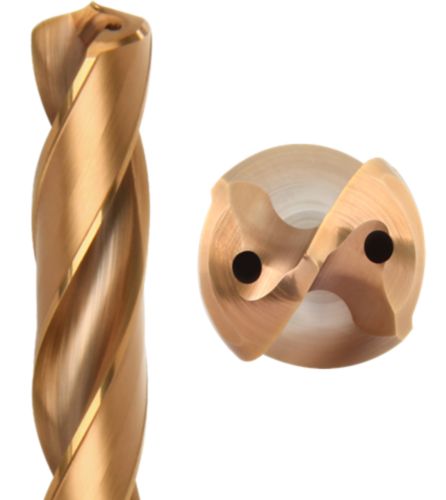 This HPR-series drill from Kennametal is optimized for holemaking in cast iron. The rounded point margins help eliminate the chipping at breakthrough common with this material. 
Getting Larger with Indexable Insert Drills
Tungsten carbide is an expensive metal, so most cutting tool manufacturers provide alternatives for larger holes. Here's where indexable insert drills come in. Made of a heat-treated steel shank and equipped with two or more screw-on carbide inserts at the business end of the tool, these cost-effective tools pick up where solid carbide leaves off. Here again, different grades of carbide are available to meet various machining demands, as are specialized insert geometries and coatings. Coolant through the tool is guaranteed (and is a must) with indexable insert drills. 
Spade drills are another option. Rather than a series of screw-on inserts, these have a single replaceable bit made of carbide or HSS. The technology dates back well before the development of CNC machinery but remains a viable option for very large holemaking needs where indexable drills are unavailable. Coolant through the tool is available in some cases, and due to the simple design, the tools are relatively inexpensive. The caveat is power—as with all supersized holes, a geared-head machine with sufficient axial thrust is often needed to drive these tools.
Drill Fix™ is a cost-effective indexable drill for short hole applications, available in DFR™, DFSP™, and DFT™ varieties.
Modular Drills: The Best of Both Worlds
There's a more modern alternative to indexable drills, one that's less expensive than solid carbide and offers nearly equivalent performance. It's called the modular drill. In Kennametal's case, it provides a "full solid" carbide front in the form of a twist-on, single-piece insert. This makes tool replacement very fast, and due to its special design, extremely strong and accurate. Here again, other manufacturers offer similar tools, although we feel ours—the KenTIP™ FS—is superior. Try it and see for yourself.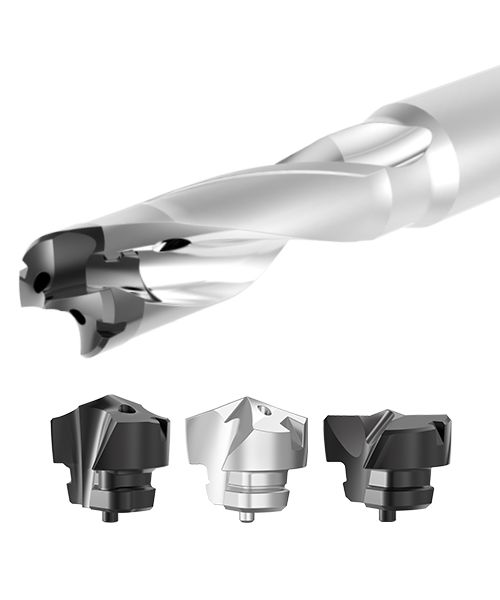 With the performance of solid carbide at a more economical price point, modular drills like the KenTIP FS shown here provide a best of both world's approach to holemaking.  
Bi-Metal Hole Saws Have Their Place
That brings us back to hole saws. For drilling sheet metal and for very large holes in soft materials—say several inches or more in diameter—they are certainly an option in manual drilling operations. Hole saws are not recommended, however, for CNC machining. The reason is the slug. If you've never seen one, hole saws resemble an inverted, straight-sided wine glass. The stem or shank is clamped into a drill chuck while the opposite end (the part with the sharp sawtooth face) is forced into the material while rotating. When the drill breaks through, a slug of metal or plastic remains inside, which the operator must remove before drilling the next hole. If not, the hole saw will quickly fill with spent material, jamming it.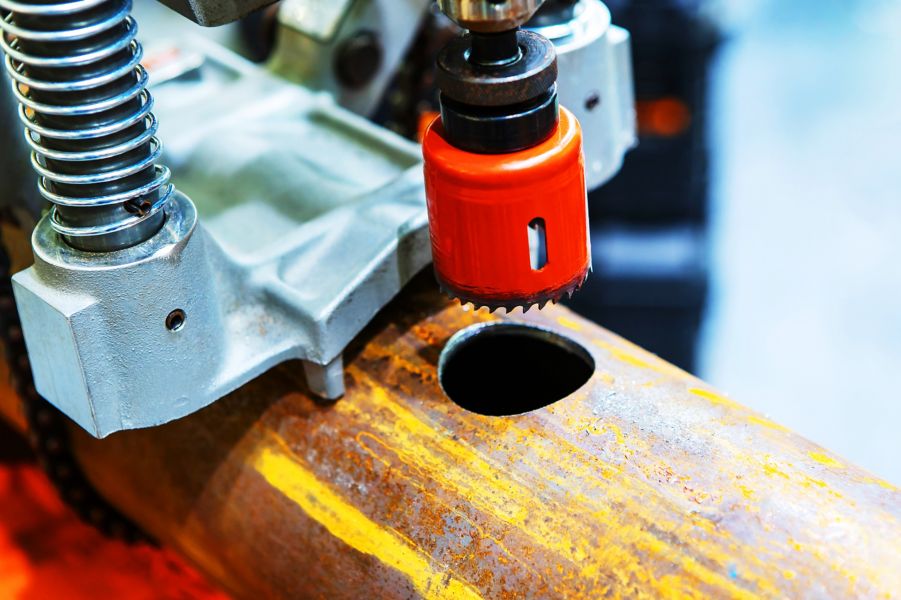 Bi-metal holesaws are an excellent choice for sheet metal, tubing, and other thin-walled materials. Just don't forget to remove the slug after each hole. 
A Little Holemaking Advice
Everything thus far is only the tip of the holemaking iceberg. We didn't mention trepanning tools, the more elegant alternative to hole saws, or annular cutters (both of which suffer the slug problem just discussed). Nor did we discuss the many other drill bit types, among them step, brad point, augur, and hammer. Most have no place in a CNC machine shop unless it's to make repairs to the building or anchor equipment to the floor, but all are worthy companions of homeowners and hobbyists alike. 
As for advice, it's quite simple: read the directions. Use the manufacturer's feed and speed recommendations. Grip the tool in a well-maintained, high-quality drill chuck or collet system. Do not use side-lock or Weldon-style toolholders if you wish the drills to last and the holes to run true. When dull, solid carbide drills should be returned to the manufacturer for resharpening, and spent carbide inserts and other cutting tools recycled. And cutting oil is advisable with all drilling operations, but in the case of CNC equipment, it's essential to use clean, filtered cutting fluid mixed to the proper concentration level for the machining conditions. If you have any questions, reach out to your cutting tool manufacturer for advice. We're here to help.