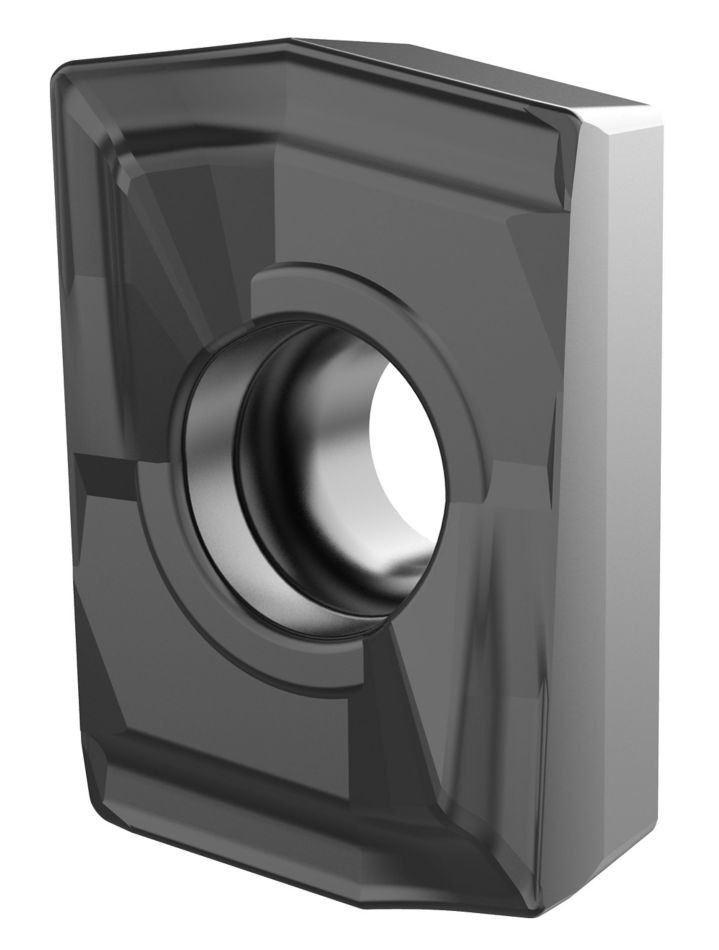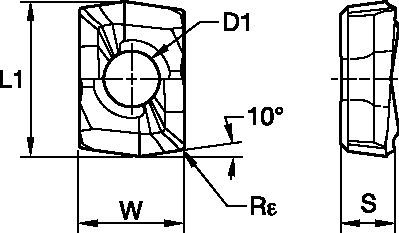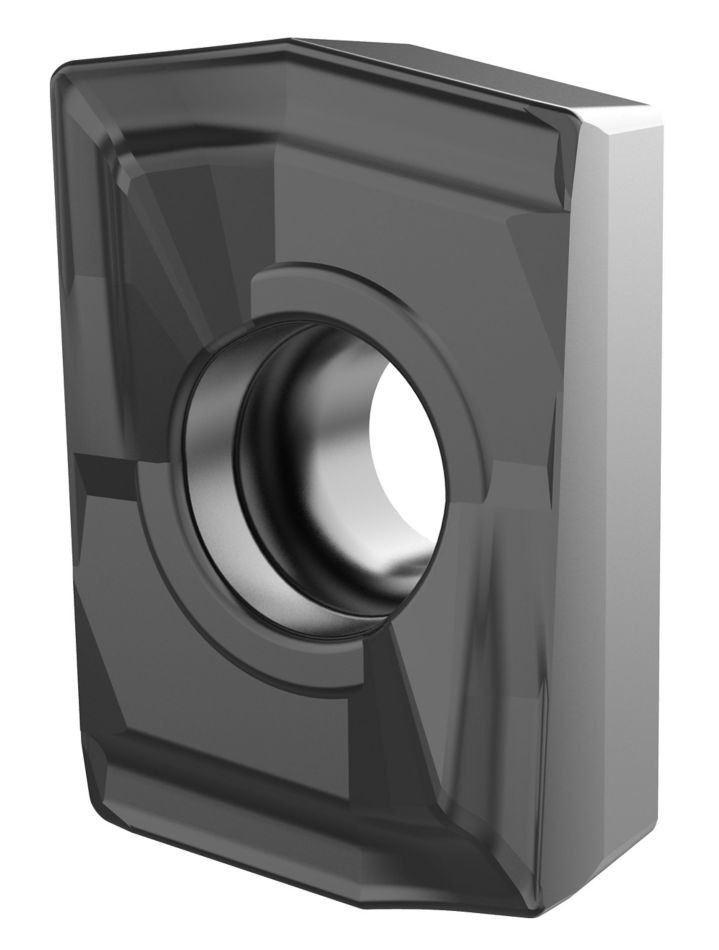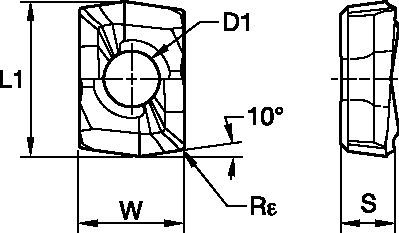 Drill Fix side inserts • DFR-GD Geometry
KSEM PLUS™ A1 Heads • Drill Fix™ DFR Inserts
Features and benefits
Rectangular shaped Drill Fix™ DFR cutting inserts offer the highest feed rates for smaller sized KSEM PLUS™ systems on A1 heads.


KCU25™ grade has high metal removal rates. With its advanced TiCN-Al-CVD coating, it excels with superior tool life in stable working conditions.


KCU40™ is your first choice for high reliability when machining most materials for applications with medium cutting speeds. It features a multilayered TiAlN-PVD coating, providing high wear resistance in challenging conditions.


2 indexable cutting edges.
Workpiece Materials
P
M
K
N
S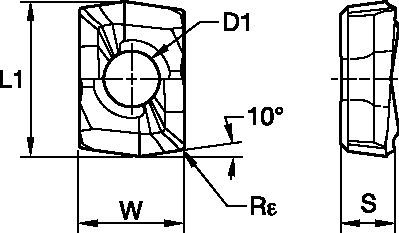 There are no results for this query&#44 please update the query and try again.
Replacement
This item is not available
Replacement Product
This item may be available through a distributor
Grades
KCU25

Turning Composition: An advanced PVD grade with hard AlTiN coating and fine-grain unalloyed substrate. The new and improved coating improves edge stability with wide range speed and feed capabilities.

Turning Application: The KCU25 grade is ideal for general machining of most steels, stainless steels, high-temp alloys, titanium, irons, and non-ferrous materials in a wide range of speeds and feeds with improved edge toughness for interrupted cut and high feed rates.

Holemaking Composition: Advanced CVD TiCN-Al2O3 coating combined with a tough carbide substrate.

Holemaking Application: First choice for steel, stainless steel, and cast iron. This grade offers adequate deformation resistance, excellent edge strength, and superior wear resistance over a wide range of machining conditions for high productivity with very good reliability.

KCU40

Composition: Multilayered TiN-TiAlN-PVD coating and a tough substrate, that withstands interruptions and provides high wear resistance for long tool life.
Application: KCU40 is the first choice for high reliability in most materials. This grade should be used at medium speeds and high feeds due to sharper edges. KCU40 covers steel, stainless steel, cast iron, and high-temperature alloys for high toughness applications under certain conditions.
Warnings • Drill Fix DFR
WARNING During through-hole operations, a slug or disc is produced as the tool breaks through the workpiece. When the drill is stationary and the workpiece is rotating, this slug may be hurled from the chuck by centrifugal force. Provide adequate shielding to protect bystanders.
Dimensions • DFR Whistle Notch (WD) Shank
Dimensions • DFR Weldon Shank • DIN 1835-1 Form B
Dimensions • DFR Flanged Shank
Material Group
Condition
Pocket Seat
Geometry
Grade
Cutting Speed vc
Range SFM
Recommended Feed Rate (fz) by Diameter
min
Starting Value
max
Tool Diameter (in)
DFR04 .813"-1.00"
N
1
S
O
ST
KD1425
1300
2362
2760
ipr
.002–.003
I
ST
KD1425
1300
2362
2760
ipr
.002–.003
2
S
O
ST
KD1425
1209
2197
2567
ipr
.005–.007
I
ST
KD1425
1209
2197
2567
ipr
.005–.007
3
S
O
ST
KD1425
1118
2032
2374
ipr
.005–.007
I
ST
KD1425
1118
2032
2374
ipr
.005–.007
4
S
O
ST
KD1425
1560
2362
2760
ipr
.005–.007
I
ST
KD1425
1560
2362
2760
ipr
.005–.007
Metric
Material Group
Condition
Pocket Seat
Geometry
Grade
Cutting Speed vc
Recommended Feed Rate (fz) by Diameter
Range m/min
min
Starting Value
max
Ø
DFR02... 12,50–16,00mm
DFR03... 16,50–20,00mm
DFR04... 20,50–24,00mm
P
1
S
O
MD
KCU25
310
325
360
mm/r
0,09–0,15
0,11–0,18
0,15–0,25
I
MD
KC7140
U
O
MD
KCU40
200
215
230
mm/r
0,09–0,15
0,11–0,18
0,15–0,25
I
MD
KC7140
I
O
MD
KC7140
130
135
150
mm/r
0,09–0,15
0,11–0,18
0,15–0,25
I
MD
KC7140
2
S
O
GD
KCPK10
310
325
360
mm/r
0,09–0,15
0,11–0,18
0,15–0,25
I
LD
KC7140
U
O
GD
KCU40
200
215
230
mm/r
0,09–0,15
0,11–0,18
0,15–0,25
I
LD
KC7140
I
O
MD
KC7140
130
135
150
mm/r
0,09–0,15
0,11–0,18
0,15–0,25
I
LD
KC7140
3
S
O
GD
KCPK10
260
285
320
mm/r
0,09–0,15
0,11–0,18
0,15–0,25
I
LD
KC7140
U
O
GD
KCU40
180
195
220
mm/r
0,09–0,15
0,11–0,18
0,15–0,25
I
LD
KC7140
I
O
GD
KC7140
110
120
140
mm/r
0,09–0,15
0,11–0,18
0,15–0,25
I
LD
KC7140
4
S
O
GD
KCU25
220
250
300
mm/r
0,09–0,15
0,11–0,18
0,15–0,25
I
LD
KC7140
U
O
GD
KCU40
150
180
220
mm/r
0,09–0,15
0,11–0,18
0,15–0,25
I
LD
KC7140
I
O
GD
KC7140
90
110
140
mm/r
0,09–0,15
0,11–0,18
0,15–0,25
I
LD
KC7140
5
S
O
GD
KCU25
180
200
220
mm/r
0,07–0,13
0,09–0,15
0,11–0,18
I
LD
KC7140
U
O
GD
KCU40
120
135
150
mm/r
0,07–0,13
0,09–0,15
0,11–0,18
I
LD
KC7140
I
O
GD
KC7140
70
85
100
mm/r
0,07–0,13
0,09–0,15
0,11–0,18
I
LD
KC7140
6
S
O
GD
KCU25
180
200
220
mm/r
0,07–0,13
0,09–0,15
0,11–0,18
I
LD
KC7140
U
O
GD
KCU40
120
135
150
mm/r
0,07–0,13
0,09–0,15
0,11–0,18
I
LD
KC7140
I
O
GD
KC7140
70
85
100
mm/r
0,07–0,13
0,09–0,15
0,11–0,18
I
LD
KC7140
M
1
S
O
MD
KC7140
150
190
230
mm/r
0,07–0,13
0,08–0,16
0,10–0,18
I
MD
KC7140
U
O
MD
KC7140
100
130
160
mm/r
0,07–0,13
0,08–0,16
0,10–0,18
I
MD
KC7140
I
O
MD
KC7140
60
80
100
mm/r
0,07–0,13
0,08–0,16
0,10–0,18
I
MD
KC7140
2
S
O
MD
KC7140
150
180
210
mm/r
0,07–0,13
0,08–0,16
0,10–0,18
I
MD
KC7140
U
O
MD
KC7140
100
130
160
mm/r
0,07–0,13
0,08–0,16
0,10–0,18
I
MD
KC7140
I
O
MD
KC7140
60
80
100
mm/r
0,07–0,13
0,08–0,16
0,10–0,18
I
MD
KC7140
3
S
O
MD
KC7140
100
130
160
mm/r
0,07–0,13
0,08–0,16
0,10–0,18
I
MD
KC7140
U
O
MD
KC7140
80
110
140
mm/r
0,07–0,13
0,08–0,16
0,10–0,18
I
MD
KC7140
I
O
MD
KC7140
50
70
90
mm/r
0,07–0,13
0,08–0,16
0,10–0,18
I
MD
KC7140
DFR™ • PCD • Metric
Metric
Material Group
Condition
Pocket Seat
Geometry
Grade
Cutting Speed vc
Recommended Feed Rate (fz) by Diameter
Range m/min
min
Starting Value
max
Ø
DFR04 20,50–24,00mm
N
1
S
O
ST
KD1425
396
720
841
mm/r
0,06–0,08
I
ST
KD1425
2
S
O
ST
KD1425
369
670
782
mm/r
0,12–0,18
I
ST
KD1425
3
S
O
ST
KD1425
341
619
723
mm/r
0,12–0,18
I
ST
KD1425
4
S
O
ST
KD1425
475
720
841
mm/r
0,12–0,18
I
ST
KD1425
5
S
O
ST
KD1425
480
720
864
mm/r
0,06–0,08
I
ST
KD1425
Inch
Material Group
Condition
Pocket Seat
Geometry
Grade
Cutting Speed vc
Recommended Feed Rate (fz) by Diameter
Range SFM
min
Starting Value
max
Ø
DFR04 .813–1.00"
N
1
S
O
ST
KD1425
1300
2362
2760
IPR
.002–.003
I
ST
KD1425
2
S
O
ST
KD1425
1209
2197
2567
IPR
.005–.007
I
ST
KD1425
3
S
O
ST
KD1425
1118
2032
2374
IPR
.005–.007
I
ST
KD1425
4
S
O
ST
KD1425
1560
2362
2760
IPR
.005–.007
I
ST
KD1425
5
S
O
ST
KD1425
1575
2362
2834
IPR
.002–.003
I
ST
KD1425