Notifications
Mark all as read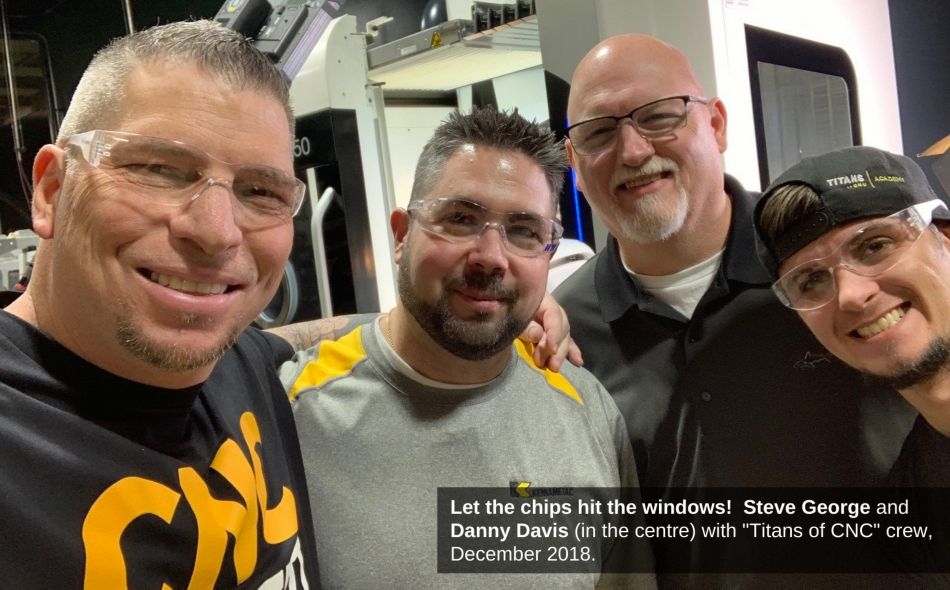 Kennametal's KOR5 DA solid end mill is turbocharging our customers' aluminum cutting capabilities for aerospace applications. With 66% higher feed rate than standard tools and Material Removal Rates [MRR] reaching feed rates of 1600 IPM, the KOR 5 is truly the King of Roughing. Meet Danny Davis and Steve George, the engineers who worked on the design of KOR 5 and learn how to cut aluminum like a king!
Q: Why did you put so much effort into creating a tool dedicated to aluminum?
Aluminum is one of the most widely used metals in aerospace manufacturing because of its light weight and high strength. Aircraft components ranging from bulkheads and wing ribs to fuselage panels and seat tracks are all commonly made of aluminum. So we wanted to equip our machine shop customers with a high-performance tool designed specifically to improve their productivity on aluminum aerospace applications.  The KOR5 DA delivers, with a 66% higher feed rate than most typical three flute tools and exceptional Metal Removal Rates. During rigorous tool tests, the KOR 5 in ½ inch diameter reached 180 cubic inches per minute! 
Q: How did you achieve a 66% higher feed rate than standard tools? What was the biggest challenge?
The biggest challenge was maximizing the number of flutes while maintaining proper chip evacuation. The higher number of flutes gives us higher feed rate capabilities which results in higher MRR. However, with a higher flute count, we had to pay more attention to chip management. We were able to do this by adding a few new features to the design. The first is a patented flute shape. Then we added chip breakers and through coolant. Taken together, these features allowed us to increase the flute count and MRR, while still being able to manage the chips. 

The higher flute count also helps with stability. In theory, more flutes mean more contact points, but of course you can't add them infinitely. Each additional flute means less space to evacuate the chips and without proper chip evacuation you might damage your part. But with five flutes, we have that balance of proper points of contact and chip evacuation. 
The patent for MRR? Watch and understand the revolutionary flue design!
Q: How did you test the performance of the KOR5 DA?
When it comes to testing our products, we love seeing the chips fly. We want to be sure that the tool will do the job in the most demanding conditions. For KOR 5 we ran tests with different depths of cut, feed rates and chip thicknesses to see how the tool would perform in a variety of conditions and applications. We also checked how the coolant worked, and tested the ramping, pocketing, and finishing capabilities. And the KOR 5 performance versus standard tools was phenomenal as you can see in the chart below! 
KOR™5  vs standard tools: the numbers tell everything.
Q: Why did you focus so much on chip evacuation?
Poor chip evacuation brings the risk of re-cutting them. That reduces the tool's stability and could result in costly damage to the end mill or the part you're working on. The KOR 5 features innovative design solutions to help avoid that risk. One of them is the internal coolant system, which not only lowers the temperature of the tool, but also blows the chips out of its way - which is especially useful when working on parts with pockets. We've also added special chip breakers to reduce the length of the chip. Shorter chips are easier to evacuate from the cutting zone and to manage in the chip conveyor. 
Which chips do you like more?
Q: And what are customers saying about the KOR5 DA?
We'll let our customers speak for themselves: As one wrote on Facebook: 
"After 4 months and a few thousand pounds of material removal we are loading up KOR5 DA number 2... Why buy another? Because running this tool in two machines is better than one!" 
With this tool, machine shops can be more efficient with aluminum and better serve their customers. It's important to note that KOR5 DA works great with modern dynamic milling techniques, when we maximize the radial depth of cut. 
Q: Can the KOR 5 help me cut other metals?
Kennametal's mission is to help customers build the world around us. And of course, this world is not built only with aluminum. So, we developed the KOR series. We've already launched KOR™5 DS  for steel, and KOR™6 DT  for titanium. Both tools are designed to help our customers achieve maximum efficiency.